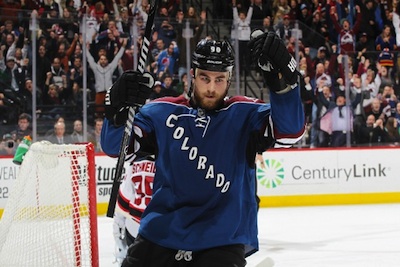 Colorado Avalanche centre Ryan O'Reilly appears to be on the trading block, as all indicators point to him being traded before the NHL trade deadline.
Toronto - January 14, 2015 - As the Toronto Maple Leafs move into the second half the season, a lot of fans have a familiar taste in their mouths. The taste of a season that will end in disappointment. Randy Carlyle has been fired, recently the team has been losing more games than they've won and there are questions surrounding nearly half the team's contracts for next season. It's safe to say that many Leaf faithful are skeptical this team will make the playoffs. However there is one trade I feel is a very real possibility, that could rectify the Leafs playoff dreams. That trade, is for Colorado Avalanche centre Ryan O'Reilly.

O'Reilly is one of the premier defensive centre's in the NHL, who also possesses offensive playmaking ability. O'Reilly is also on the outs in Colorado, with a cap hit of $6 million dollars in the last two years of his contract. That's a cap hit that Colorado cannot afford, not when Nathan Mackinnon needs to be re-signed that year, along with 8 other unrestricted free agents on the Avalanche roster. This means that not only will the Avalanche have to move O'Reilly, but also that they will not be able to get full value in return. The word out of the Avalanche camp is that O'Reilly will not be on the team following the March 2nd trade deadline. Teams know this, and they will exploit this fact to get O'Reilly for cheap. Here's why the Leafs are a prime candidate to land O'Reilly.

First of all, the Leafs' need him - badly. Ever since Sundin left the team, the Leafs' have been desperately searching to fill that void. O'Reilly fits the profile. The 6'0, 200lb centre is a bonafide number one centre, and in a rare turn of events, he is a number one centre who is on the market. The second reason O'Reilly could end up in blue in white is because the Leafs are ideal trading partners for the Avalanche. Toronto is not in their conference, and their need for a player like O'Reilly means they would probably be willing to pay more than most NHL franchises who might have interest. The final reason that Toronto could be O'Reilly's destination is the return. Reports are Colorado will only move O'Reilly for a top 4 defenseman, with possibly a pick and/or a prospect. The Leafs have options on defense that they would most likely be willing to move for a player like O'Reilly. There are a few ways this deal could go down. Here's how I see the potential options. It should be noted that all of these options require the Leafs to free up some cap space. I'm going to assume that LW Joffrey Lupul has been moved to allow for salary cap relief. He is the consensus choice to be traded, at 31 years old and a cap hit of $5.25 million a year.

Option 1: TOR SENDS D Jake Gardiner + Mid/High round pick, COL SENDS C Ryan O'Reilly. I feel this makes the most sense for one simple reason. Cap relief. Ryan O'Reilly is going to be pricey, and the Leafs are already tight against the cap. Trading Lupul will help that, but still won't clear out enough to take on O'Reilly's contract. By trading Gardiner the Leafs take his $4 million dollar cap hit off the books before adding O'Reilly's $6 million dollar cap hit. The addition of the picks will add further value for Colorado, and if the Leafs do the smart thing and trade Lupul for picks prior to this deal, then they can simply flip the Lupul draft picks to the Avalanche. As for what round those picks will be, it is unclear. Gardiner appears to have found new life under interim Head Coach Peter Horachek, so his stock could rise leading up to the deadline. We'll have to wait and see how Gardiner progresses to fully evaluate his value on the trade market.

Option 2: TOR SENDS D Morgan Rielly, COL SENDS C Ryan O'Reilly If Jake Gardiner continues to progress under Horachek, this option looks more and more likely to happen. Morgan still has a lot of work to do on solidifying his defensive game, which is why they may elect to move the young defenceman. However, he has shown elite level potential at times; specifically in his transition game and in the offensive zone. It's this elite level potential that would make Morgan an attractive option for Colorado, and worthy of a straight up, player for player trade. There is however one massive hangup on this potential trade and that is the financials. Morgan Rielly is still playing on his entry level contract, which means the Leafs would be drastically over the cap limit if this was the only trade made. For this to happen it's almost certain that both Lupul and Bozak would have to be moved for draft picks to free up cap space. Also if the Leafs are going to trade Morgan Rielly, and he does turn into the elite player that many feel he is capable of being, it's better that he be traded to a Western Conference team.

Option 3: TOR SENDS D Cody Franson + Pick, COL SENDS C Ryan O'Reilly Franson is arguably the defenseman with the highest on ice value that the Leafs would presently consider moving. He's a right handed, top pairing defenseman who has a strong 2-way game, and can play both power play and penalty kill minutes. A player like that is almost as a rare a commodity as a true number one centre. There is also a massive hang up on this potential deal. Franson is an impending unrestricted free agent. If he were to be traded to Colorado, there is no guarantee that he would re-sign this offseason with the Avalanche. As a result the Avs would surely want insurance should he go elsewhere this summer. Franson's contract also creates a financial problem. Despite the big pay day Franson is going to get this offseason, he currently only makes $3.3 million dollars. The Leafs would probably have to move both Lupul and Bozak in order to be able to afford Reilly and then sign a number of other players this offseason. The player options in this scenario may be the most satisfactory to both teams. However, Franson's status as a UFA and the limited cap space of both teams probably makes this deal a long shot.

Ryan O'Reilly centreing Phil Kessel could be the top line that Leaf fans have been waiting for all this time. The ability to put up elite point totals and play sound defence in their own zone has been missing from the team for years. If the Leafs are able to move both Bozak and Lupul for picks, it would free up about $9.5 million in cap space. Combine that with sending Jake Gardiner in return for O'Reilly and thats another $4 million off the books, before you add O'Reilly's $6 million dollar cap hit. If Leafs' management can get this deal done, and get it done intelligently, it could be the move the Leafs have needed in order to return to the postseason with consistency. However should they make a mistake, whether it be over-paying for O'Reilly, or dooming the team financially, people will lose their jobs and the Leafs' will stay a bottom 15 team. It's a high risk - high reward situation. Can Shanahan and Leafs' management get the deal done, and get it done right? Tell me what you think on twitter.

Rob McPhee @RobMcPhee on Twitter. Let me know what you think about the potential trade and follow along for Leafs' news, updates, and opinion.