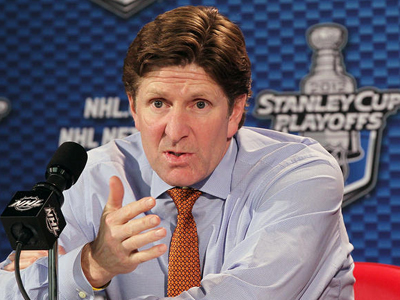 The Toronto Maple Leafs have hired Mike Babcock as the 30th Head Coach in Franchise History. His new contract makes him the highest paid Coach ever.
Toronto - May 20, 2015 - In what has been the most chaotic day the NHL has seen in years, what was considered impossible 12 hours ago has happened. Mike Babcock has been hired as the Head Coach of the Toronto Maple Leafs, and is the 30th coach in team history. Babcock's contract is 8 years at $50M USD, which comes to a very pretty $61 060 000 Canadian Dollars.

Early this morning it was being reported that Babcock had narrowed his options down to Buffalo, Detroit or San Jose. As for Toronto, they had no chance and were considered eliminated from contention Tuesday evening. Clearly though something changed. Just before noon hour Wednesday it was being reported that both Buffalo and Detroit were out of the mix. Shortly thereafter it was reported by Jeff Veillette that MLSE's private jet had been chartered to Detroit this evening where it would touch down, remain on the ground for all of 3 minutes, turn around and return to Toronto. That was the first domino to fall.

Within the hour multiple sources were confirming that all teams that had been in contention had been told they were no longer in the running for the Stanley Cup and Olympic gold medal winning coach. Toronto was the one team that was omitted from these reports. By 1pm it was being reported that Babcock had indeed made his decision and was coming to Toronto.

What makes Babcock a great coach is also why, in my most recent article, I said I believe Brendan Shanahan will have success in Toronto. Babcock is deeply competitive and only cares about winning. This fact keeps him a student of the game. He wants to learn, he wants to understand as much as possible. If there is a new aspect to the game, he wants to understand it as thoroughly as possible. This has led his recent teams to put an emphasis on possession and players with a high skill level. The Leafs have a lot of talent presently, but they lack great possession players, but perhaps that's coachable or perhaps Babcock has some roster moves in mind. Either way Babcock will adjust his strategy and philosophy to his roster, and to what is proving to win games in the NHL. You couple that intellectual fluidity with the fact that he is considered one of the best hockey minds in the league, one of the best motivators, and a true players coach, and you have the man who is considered by most to be the best coach in hockey today. The Maple Leafs can truly rebuild with a coach like Mike Babcock behind the bench.

So what now. Well first off, Mike Babcock is now the highest paid Head Coach ever, and his new contract will have a ripple effect at all levels of hockey. His hiring also now means that Toronto has to give Detroit their 3rd round pick. Not ideal, however it is forgivable. As for the direction of the team, and any roster moves that may happen, we should get a better picture of that tomorrow morning at the official press conference. The press conference will be held at 11am, Thursday May 21st at the Air Canada Centre.

The future for Leaf fans is finally starting to look up, this is a much needed confidence boost for what is an exhausted and frustrated fan base.

Rob McPhee, @RobMcPhee on Twitter.