| | |
| --- | --- |
| | |
Phil Kessel's trade list includes Montreal Canadiens among others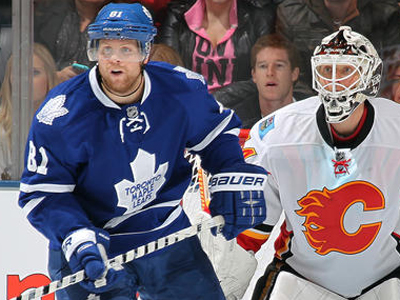 Phil Kessel named eight teams at the trade deadline he'd be willing to go to. Included in that list were teams like The Montreal Candiens and the Boston Bruins. Could Kessel be traded to a rival team? If the rumours circling the Leafs' draft plans are true then you might see Phil dawning the Bleu Blanc et Rouge next year.
Toronto - June 14, 2015 - Bob McKenzie of TSN has reported that Phil Kessel's 8 team trade list going into the NHL Draft this month will consist of: Montreal Canadiens, Philadelphia Flyers, Pittsburgh Penguins, New York Rangers, Boston Bruins, Chicago Blackhawks, Los Angeles Kings and the Minnesota Wild. This was Kessel's list at the trade deadline and it is believed that it cannot be changed until June 30th.

If the Leafs are going to move Kessel at the draft they will be hard pressed to find a trading partner, as all of these teams are pressed hard up against the salary cap. Even for a team like Pittsburgh, who has almost $15 million in cap space and few key roster spots to fill, it will be hard to get a deal done because they've already traded away their first round selection earlier this year (EDM for Perron). For the Leafs to get a deal done they might have to settle for draft picks in a future draft, or find a team willing to probably overpay for Kessel.

Presently Montreal makes the most sense as a landing spot for Kessel. An elite goal scorer like Kessel pushes the Canadiens into the heavyweight contender category. In recent years, goal scoring has been a large part of why the Canadiens haven't won a cup. However with only $5 million in cap space and a number of roster spots to be filled, Leafs' fan's don't need to actively worry about the nightmare of seeing Kessel in the bleu blanc et rouge becoming a reality.

Philadelphia is the most viable in my opinion. They only have $7 million in cap space, however they don't need to resign anybody expensive, have parts they can move and posses the number 7 overall pick in the draft. This would allow the Leafs to potentially get Ivan Provorov, the player believed to be coveted by the Leafs after London's Mitch Marner.

There is an alternate option, which is the Leafs' find a deal with a team not on Kessel's list and he okays it anyway, but that all depends on what Kessel wants. From the outside looking in it would appear as though Kessel isn't in a rush to get out of Toronto. Every team on his list would have trouble finding space for his contract, and if you don't want to be traded that is a solid strategy to try and prevent it from happening. Also having a team like Philadelphia on the list means it's not about going to a contender. Everything points to Kessel trying to prevent a trade out of Toronto.

This year's draft seems poised to offer up more draft day drama then we've seen in years. As for Kessel's fate, we'll have to wait and see. It will certainly be surprising if the Leafs can find a way to trade him to one of these 8 teams.

Who should the Leafs make a deal with? What kind of return should the Leafs get for Kessel?

Let me know on twitter @RobMcPhee
---

---
---

---
3,470 Hockey Stories so far,
and Growing Daily!

#
PLAYER
GP
PTS
PPG
16&nbsp
Marner, Mitch&nbsp
27
32
1.19
34&nbsp
Matthews, Auston&nbsp
27
30
1.11
91&nbsp
Tavares, John&nbsp
27
27
1.00
88&nbsp
Nylander, William&nbsp
27
26
0.96
58&nbsp
Bunting, Michael&nbsp
27
17
0.63
44&nbsp
Rielly, Morgan&nbsp
20
16
0.80
15&nbsp
Kerfoot, Alexander&nbsp
27
11
0.41
64&nbsp
Kampf, David&nbsp
27
10
0.37
19&nbsp
Jarnkrok, Calle&nbsp
25
9
0.36
38&nbsp
Sandin, Rasmus&nbsp
27
9
0.33
Stat Database Last Updated:
Nov. 05, 2017 @ 7:11 AM EST