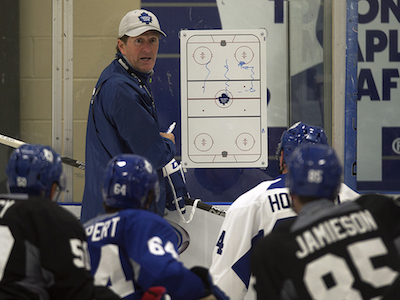 Mike Babcock is now the head coach of the Toronto Maple Leafs and ahead of him lies the greatest challenge of his coaching career. If he finds success and does what nobody has down since 1967, and win the Stanley Cup in Toronto he will become hockey royalty.
Toronto - October 7, 2015 - The Toronto Maple Leafs 2015-2016 campaign starts tonight, Wednesday, October 7th as the Leafs face off against their rivals The Montreal Canadiens. There has been a complete overhaul of the team from head to toe, so let's look ahead to this year's campaign and what we can expect from the Toronto Maple Leafs.

The Offseason There were three moves in particular this summer that will define the shape and future of the Leafs'. The first is the hiring of teacher first, Head Coach second, Mike Babcock. Babcock set the tone for the rebuild by signing a massive 8 year, $50M contract with the Leafs. He's been a winner at every single level of hockey including the World Jr's, The NHL, and The Olympics, just to name a few. He is undeniably the best coach in the world right now and he has stated numerous times that he's in for the long haul with the Leafs. It feels like his quote from his introductory press conference about how 'There will be pain…' has become the franchise motto. Sufficed to say Leafs' Nation is excited about Babcock, and rightfully so.

The second major move for the Leafs, and one could argue the most important move, was the trading of superstar winger Phil Kessel to the Pittsburgh Penguins for a questionable return. Kessel was dealt to the Penguins along with 1st round draft bust Tyler Biggs and defenseman Tim Erixon along with former Penguins 2nd round pick. In return the Leafs' got young Defenseman Scott Harrington [Harrington has made the Leafs out of training camp], Forward prospect Kasperi Kapanen, and forward Nick Spaling. The Leafs also receive a 1st and 3rd round pick. The 1st round pick returns to Pittsburgh if they fail to make the playoffs this year, which is unlikely.

Regardless of the opinion you may have of Kessel, he was the top point producer for the Leafs every year he was with the team and that will not be easy to replace. In fact that lack of scoring will be, in my opinion, the ultimate downfall of the 2015/16 Leafs. More on that shortly though. All things considered, the return for this trade has gotten a little bit more palatable with time as both Kapanen and Harrington have impressed since their arrival. Harrington really seems to have caught the attention of coach Mike Babcock which is promising. Meanwhile Kapanen has looked fantastic, but young and lacking some experience. Expect to see him playing the wing on the first line for the Marlies.

Quick word on the Marlies. They're going to be oh so very good. The projected top line of Brown-Nylander-Kapanen has the potential to be the best in the AHL. The potential for all these young players to get playoff experience in the AHL cannot be understated enough.

Finally, there is the hiring of Lou Lamoriello as the General Manager of the Leafs'. Lou is the most storied executive in the NHL spending nearly 30 years at the helm of the New Jersey Devils. This move seems bigger than it actually is because of the name involved. In the end the Leafs will mostly be governed as a group, with Shanahan ultimately having the final say. Lou provides experience, and a fantastic mentor for Assistant GM and Toronto Marlies GM Kyle Dubas, who is sure to take over the job when Lou leaves in a few years. That being said Lou will have significant influence, don't get the impression that it's a meaningless hire, because it's not.

After a tumultuous season last year, Brendan Shanahan has arguably brought together the best front office in the league. The Team of Shanahan, Lamoriello, Dubas, Mark Hunter is fantastic, but add in the hiring of Mike Babcock as head coach of the Leafs, and the hiring of up and coming coach Sheldon Keefe to coach the Marlies, and you have a front office that is without comparison across the NHL.

The 2015/16 Roster In my eye's, most of this year's roster breaks down into 4.5 categories. Those are: 'Fancy Stats Signings', 'Next Step Players', 'Why Are You Still Here?', 'Young Guys/Prospects','Dion Phaneuf/Others'.

Fancy Stats Signings Players I include in this category are: P.A. Parenteau, Daniel Winnik, Shawn Matthias, Mark Arcobello, Matt Hunwick,

These are players specifically targeted in the offseason because management feels that they can put in their system and then hopefully flip at the trade deadline for picks. These players have a high Corsi(shot attempts) stat and drive the team's puck possession by creating chances at the opponent's end of the ice. These players are prototypical 3rd line wingers, sometimes with 2nd line potential(Matthias). They won't make or break a team, but they look poised to help fill out the Leafs' roster with productive, technique and system driven players. Winnik is now on a two year contract, so I don't expect him to be traded this year. Matthias may also survive the early March roster purge.

Next Step Players Players included in this category are: Nazem Kadri, James van Riemsdyk, Peter Holland, Jake Gardiner, Richard Panik*, Jonathan Bernier, James Reimer, Morgan Rielly,

These are the most important roster players, the players that will define this season for the Leafs. They are players that need to show they deserve to stick around for the coming years, Morgan Rielly being the exception that. I only include Rielly because I expect him to become an Elite NHL defenseman, a player you could see on Team Canada in future years. For that to happen he has to continue his development.

The most important players in this group are Kadri, Gardiner and Bernier. Each have shown flashes of brilliance, but also glaring errors in their play the last few seasons. If under Babcock they cannot take the next step, you have to expect that they will be dealt. Kadri is on a 1 year 'prove it' deal. He needs to play like a top line centre this year if he wants to be a Leaf next year. Bernier signed after contract arbitration this offseason and has a 2 year deal. Bernier has struggled in the preseason, even leading to some predicting that Reimer will start the season for Toronto. In the end Bernier will get the start in the first two games of the year. If Bernier wants to hold on to the starter's job he will have to play the best hockey of his career. Reimer is entering his last contract year and will be hungry to prove he be the starter.

The good news is that in preseason play, both Jake Gardiner and James van Riemsdyk looked significantly better and received praise from their new head coach. Babcock even going as far to say about Gardiner that "All the things I heard about him, none of them were true." Clearly Gardiner has impressed and it will be interesting to see how he performs this year on what should ultimately be a bad hockey team. JvR looks to be benefiting from his new coach as his defensive play and transition game look significantly better. If he can continue to improve with the X's & O's, he has superstar potential.

Holland and Pank will both be interesting to watch. Holland has looked good and should challenge to move up the depth chart at centre. He should also get time on the PK and perhaps some 4v4 play. Panik on the other hand has not looked great and is on the bubble, and won't start the year with the Leafs. I would anticipate a 4th line spot if he cracks the roster.

* Note: Tuesday afternoon Richard Panik was placed on waivers when the Leafs claimed defenseman Frank Corrado from Vancouver. If Panik clears waivers he'll start the year with the Marlies, if claimed, he will be joining another NHL club.

This years team, and the team for years to come will largely be dictated by the performance of these players over the course of the year.

Why Are You Still Here? Players include are: Tyler Bozak, Joffrey Lupul, Roman Polak, Stephane Robidas,

There's not a whole lot to say about these guys other than management tried to move them this offseason and couldn't find a deal that suited them. Bozak will be the 2nd line centre, perhaps 3rd if someone challenges for the 2nd line spot. I also expect Bozak and Lupul to be traded at the deadline (if they can find a team to take them) so prospects Nylander, Brown and/or Kapanen can get a month with the club before the season ends. Lupul has been plagued by injury throughout his career and if the Leaf's can find a taker on him before the playoffs I'm positive they'll pull the trigger to get rid of him and his $5.25M cap hit.

As for Polak and Robidas, both played awfully in the preseason. I expect Polak to be the first trade target for the Leafs at this point, simply because Robidas has absolutely zero trade value. For all intents and purposes we can assume Robidas' career is over. The 38 year old just can't play at an NHL level anymore and is starting the year on injured reserve. That on top of not making the team.

Dion Phaneuf & Others

The title is not to insinuate that Dion is somehow irrelevant, he's arguably the most interesting player on the team this year. He just doesn't fit into any other category in my eyes. He's a defenseman in his prime, who needs to take a next step, but he also leaves a sour taste in your mouth after years previous. He's an enigma right now. Babcock seems to have his back for the time being and really seems to believe in him. With that in mind, I'm going to forego any assumptions and ignore my bias and just wait and see on Dion. If it were any other coach I wouldn't, but Babcock is that rare kind of coach who can truly change the course of a player's career. We'll just have to see how it plays out.

As for the 'Others' category, players included are: Michael Grabner, Leo Komarov, Nick Spaling, Brad Boyes, Martin Marincin,

You could maybe argue that these players could fit into some other categories, however it just doesn't make sense for them to be anywhere else. They're all decent players, but they're mostly here to fill out the roster. Grabner came over from the Islander's in September in what was, effectively the Leafs clearing roster spots. However he's a solid penalty killer with top end speed. He's just not a top level point producer, and he's got 1 year left on his contract. He'll go at the deadline for picks. Komarov is a great locker room presence and has the ability to turn the momentum of a game with his physical play. He looked ready to take a step offensively last year, but that was halted by a concussion. I'm curious to see if he can keep progressing or if he'll plateau.

Spaling and Boyes are both good players, but they're just not that noteworthy. Boyes is a nice story. Drafted by the Leafs in 2000, but he never plays a game for them. He gets a professional try out at 33 years old and the team signs him. Now if he plays at a top 6 level, fantastic, but I'll be happy if he gets 10 goals / 30 points this year. In the end though I expect him to be traded at the deadline. If he does infact produce 30-40 points at the cost of $700k, multiple teams will be interested in his services at the deadline. Spaling came over in the Kessel trade, he's a bottom 6 forward. He won't be an issue this year, but he won't be special in any way. In the end he's likely more cannon fodder for trade deadline day as well.

As for Martin Marincin, he was acquired at the draft from Edmonton. He's looked good enough this preseason, and will play with the big club this year. However he struggled to make what was a dumpster fire of a defensive squad in Edmonton last year so I'm hesitant to expect much from him. Another wait and see player.

Prospects / Young Players Players included here are: Scott Harrington, Frank Corrado*, William Nylander, Kasperi Kapanen, Connor Brown, Nikita Soshnikov, Mitch Marner, Jeremy Bracco, Victor Loov, Stuart Percy, Travis Dermott,

This is the group that gets me excited. There is so much talent here that Leaf fans should be forgiven for drooling while they read the list of players. Marner, Bracco, and Dermott will all be back with their respective junior clubs this year as they're not of age yet. That being said they all showed tremendous upside in Rookie camp. Marner also has a chance to make the Leafs next year, in fact I almost expect him to.

As for the Marlies players, good god they look good. Nylander and Brown both challenged for spots on the Leafs' this year, while Harrington made the team. Kapanen looked great, but was clearly not ready. The Marlies top line of Brown-Nylander-Kapanen look poised to be one of the deadliest lines in the AHL this year, and that is very exciting for the future of the Leafs. As for Loov and Percy, you could make the case that they're ready for a shot this year. However the Leafs are deep with young puck moving defensemen right now and there just isn't a spot for them. That being said there will be injuries this year and they offer a tremendous safety net should that problem arise.

*Note: Frank Corrado is a 22 year old defenseman who was claimed off of waivers by Toronto Tuesday afternoon. At this time it's not clear whether he will start Wednesday night with the Leafs or go to the Marlies. Corrado was Vancouver's best Defense prospect, the perceived reason why the Leafs he targeted him is the fact that he is a right handed shot. Babcock doesn't like having an imbalance in the handedness of his defensemen, and before Corrado the top, and only, 3 right handed shots on the Leafs blueline were: Polak, Granberg(IR), Robidas(IR). Besides the fact that 2 of 3 are starting the year on injured reserve, those are all bottom pairing defensemen, if that. The signing of Corrado may mean Polak watching from the press box Wednesday night.

The future for the Leafs is bright.

So that's the team. They are, essentially, one massive 'work in progress'. So what can Leaf fans expect from them this year? Honestly. Not a whole lot. On offense the Leafs are essentially icing two 2nd lines, and two checking lines. They're going to be watchable, but they will ultimately be a bad team. In fact when I went through the rest of the NHL, I only have the Leafs being better than 3 teams. Those teams are Arizona, Carolina and New Jersey.

The final preseason game against Detroit provided the best example of what I expect from the Leafs this year. They played fantastic hockey, dominated puck possession and had the bulk of the scoring opportunities. However in the end, they beat themselves by simply not being that good. A weak goal where Polak was blown past at his own blueline, without issue followed by Bernier whiffing on the save, and then somehow allowing a 3-on-1 while on the penalty kill lost them the game. They will play hard, they will compete, but in the end they will just be one of the worst teams in the NHL this year.

What do you expect from the Leafs? Do you think I'm wrong and they'll make a playoff push? Let me know on twitter, @RobMcPhee and be sure to stay tuned this year for comprehensive coverage of your Toronto Maple Leafs.