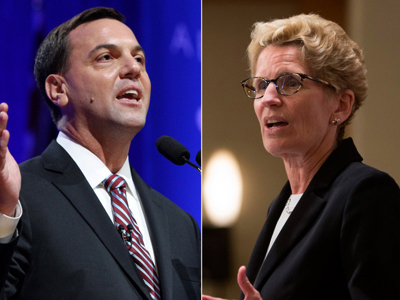 South Dundas - May 20, 2014 - What the 2014 Ontario Election will come down to, is this simple question: Who gets to control my wallet? Me, or the government? It sounds like such a simple question, but it is not.

Let's look at the Ontario Liberal Party. Their platform is very clear. They wish to spend billions on transit for cities, billions in subsidies to attract business to Ontario, and spend billions to create an Ontario Pension Plan.

Let's now look at the Progressive Conservative Party of Ontario. Their platform is also very clear. They wish to cut 100,000 government jobs, cut the deficit to zero and create 1,000,000 jobs.

Back to the Liberals for some depth. Their plan is to increase investment in transit for large cities like Toronto, Hamilton and Ottawa. The party projects it will cost $32 billion to do. This plan has no benefit for those who live outside of the big cities, only cost. We all would have to pay for this, from Morrisburg to Atikokan. This writer hasn't been to Toronto in 12 years, yet it's a warm-and-fuzzy feeling I have, to know my pocket will help pay for more GO-Trains.

Same with the Liberals' plan for subsidies to attract business, $2.5 billion to be exact. While energy costs soar to being the highest in North America thanks to "Green Energy", and wage costs sky rocket, the government will pay businesses to come here and set up shop. What happens when the subsidy goes away? We've seen what happens to places like New Brunswick, which offers subsidies to attract businesses. When the subsidy ends, that business moves to the next location offering a subsidy. Subsidizing a business to locate here creates a false economy and instability.

Lastly for the Liberals, the Ontario Pension Plan. This plan makes no sense to me whatsoever. After the Liberals increasing the minimum wage to $11/hour, placing an additional $120/month in the pockets of minimum wage earners, they plan on taking $100 a month out for the Ontario Pension Plan in contributions, plus whatever contributions are the responsibility of the business to make. How is taking $100 a month out of the pockets of minimum wage earners going to help them get ahead?

To say this scheme is offensive is the nicest term that could be used in this column. What this scheme should be called is the "You-Are-Too-Stupid-To-Invest-In-Your-Future-So-Big-Government-Is-Going-To-Do-It-For-You Plan".

People just starting out, or earning minimum wage, can't afford to start their retirement savings. They need that money to pay bills, buy groceries, pay student loans and other necessities. Retirement is not on their focus yet. But by making it harder to get ahead, by taking it out of their pockets when they need it the most, is not right. It treats Ontarians as if they are idiots unable to think for themselves.

Let us switch to the PC's, cut, cut, cut is the mantra. Hudak and his team would cut 100,000 civil servants from the Ontario Government. Considering the Liberals hired 170,000 civil servants over the last 11 years, the net gain in Ontario would still be 70,000 from 11 years ago. That's not a bad increase overall. Where would the cuts come from, outsourcing some services and through attrition, mostly not hiring new people when employees retire or leave. Not mass layoffs as some would have you believe.

Cutting the deficit to zero. It needs to be done. You cannot spend more than you take in. You cannot finance your spending on a credit card. Unlike government, families don't get 5, or 11, or 16 years to get their household finances in order. If you have X-amount coming in by way of revenue, you can only spend X-amount going out. Balancing a budget is tough, but it has to be done. Cutting expensive subsidies to "Green Energy" would help that.

Last is the 1,000,000 jobs plan for the PC's. This columnist is skeptical that 1,000,000 jobs would be created given the high energy rates, red tape and other roadblocks that are out there to startups in Ontario. But if you outsource government departments or services to the private sector, surely there would be some creation of new companies in the private sector to take that on. If energy rates lowered by axing the Green Energy Act, then some jobs might start that way. If some taxes were lowered then yes, some jobs may be created as well.

Ontario is not the economic powerhouse it once was. A high Canadian Dollar combines with high wages in Ontario and high energy rates have decimated the manufacturing sector. It will never be what it was. But if even 500,000 jobs are created under the plan instead of a million. that would still be a net gain of 400,000 jobs in the province. Not a shabby comeback.

What you don't see in Hudak's platform is ways of getting more money out of your pocket. Nor do you see government telling you how-or-where to spend your money. There is no pension plan scheme, there is no "revenue-tools" or other buzzwords to extract money from you. It assumes you are the master of your own wallet and can spend your money, invest your money, where and how you wish. Personal responsibility.

What we have seen from the Liberals is 11 years of waste, big schemes and big dreams. Eleven years of government telling you what you should be spending your money on, and doing little to make sure what money they get from you is spent wisely. Tax increases, fee increases, and money wasted on schemes, and plans, and dreams. It is time Ontarians woke up and realized that they should be in control of their own wallets, just as I should be in control of mine.