| | |
| --- | --- |
| | |
Is Ontario too big?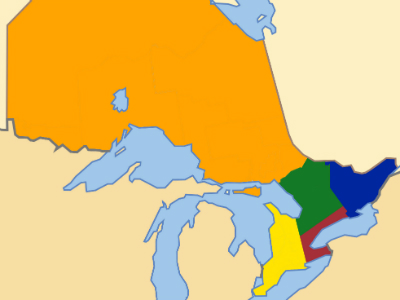 South Dundas - May 27, 2014 - Is the province of Ontario too big to be governed properly? Are the different regions of Ontario being treated fairly by one-size-fits-all government policy? Yes to the first question and no to the second question.

First to Ontario being too big. It is the second largest province in the country, and has very distinct regions of governance: Western Ontario (everything west of Toronto/Guelph); Eastern Ontario (everything typically east of Belleville); Northern Ontario (everything north and west of Sudbury); Central Ontario (south of Sudbury/North Bay to the top of the 905, including Cottage Country); and the 416/905 area (Toronto, Hamilton and Niagara). This is a very large, unwieldy area with each region having very different needs and issues from others.

Second is the one-size-fits-all policies from Queen's Park. It does not matter what party is in power, governance is Toronto-centric. There is no way of arguing it is not. According to ThreeHundredAndEight.com, there are 54 seats in Queen's Park allocated to the 416/905 region, 53 seats for the rest. This means the Toronto-region can dictate what happens in the rest of the province and does.

A policy affecting electricity rates from Toronto means windmills and solar farms in rural Ontario because there is no room in Toronto for them. And it means higher rates in areas of the province which can ill-afford them.

A policy that favours the gambling establishment in Niagara by bringing in more "Vegas-style" casino operators, decimates the horse-racing industry in Rural Ontario. An agricultural policy passed for all, may be based on the realities of Western Ontario and be harmful to the economies of farming in Eastern Ontario.

Education polices that diversify curriculum in schools may work for large cities like Toronto, but become hard to implement in rural communities.

These are just a few examples. In the end, the 1800's version of what Ontario should look like doesn't work anymore for all of the residents.

Splitting Toronto and area from the rest of Ontario will not fix the issues, as you still have vast areas that are different.

It is time to split Ontario. Separate the North from Ontario and let them decide their own policies. If the northerners wish to develop the Ring of Fire, then let them decide that. If they want to have Ontario Northland Railway stay owned by the province, their province, then let them.

Eastern Ontario and Western Ontario are both more rural in nature with some bigger cities and manufacturing. Both of these regions have seen their manufacturing decimated by energy policies set by Toronto. Both regions have seen their agricultural industries radically affected again by policies from Toronto. Why should these areas not have control over their own affairs?

Central Ontario has been under the shadow of the 905/416 region, being the playground for cottagers while dealing with an increasing tourist-based economy which is very hard to sustain year round and be prosperous.

By letting each region manage it's own affairs, it will also help the country as a whole when there are economic downturns. Ontario became a have-not province during the last recession, due to the manufacturing sector hitting bottom. A divided Ontario would have been less of a drain as each would have weathered the recession differently. One region's success would not have been dragged down by the failure of another.

Many times the sum is greater than all of the parts. In the case of the Province of Ontario as a large, cumbersome, antiquated political entity, that is no longer the case.


8,402 Stories & Growing Daily...
To date OurHometown.ca has posted a total of 8,402 stories! News, sports, hockey, lifestyle, opinion and more!

Be sure to check out our Columnists archives or, why not Contribute a Story yourself!


OurHometown.ca
offers a very generous revenue sharing opportunity for our Columnists. If you are interested in learning more details about writing for us, please send us an
EMAIL.

Click on Photo or Story Title for more info
OurHometown.ca News Database Last Updated:
Dec. 31, 2021 @ 8:03 AM EST