| | |
| --- | --- |
| | |
Sustainable waterfront for all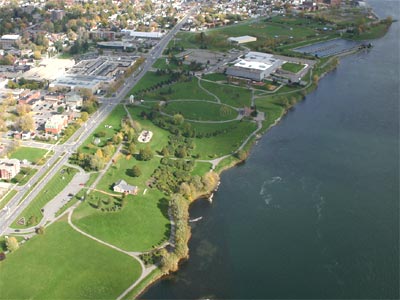 South Dundas - January 30, 2012 - Public land owned by a municipality should be open for all to use and developed to maximize the benefit for everyone. Sounds simple, except how to pay for it. No matter what waterfront committees plan for, in South Dundas, Cornwall or anywhere, you have to know how to pay for it.

Boil it down and there is three ways to pay for development, taxation, user fees or selling land. Residents already pay a lot of taxes for the services they receive. Residents also pay user fees for programs like swimming. How many would want to pay a toll to go into a park? This means the third way, selling off some land for development, has to be the correct way.

When waterfront committees develop plans for land, the land being looked at is ranked due to importance and location. What Councils should do is take the non-ideal lands for public use and sell or lease them for development. If you look at Morrisburg in South Dundas, there is plenty of land east of the Park and the Golf Course which is either vacant industrial or just un-used. This also goes for Cornwall. How much land left over from the Seaway still exists between the Aquatic Center and the Cotton Mills District and is not used? Developers don't need the most open or level land to build condos or other development on. They need the three most important things for real estate, location, location, location. A condo or a home that is close to recreation and a large waterfront park makes even the smallest and ugliest piece of development land valuable.

The money made from developing east and west of Lamoureux Park would pay for more recreational development inside that park. That being said, at no time should local government try to develop residential land themselves. Sell it and get private enterprise to do so with clear rules and standards for developers to follow.

It's a win-win plan and does not need to be studied to death to figure out. In South Dundas, residents have had 13 years and many thousands of dollars in studies without getting anything done. Cornwall is even longer. Deciding to develop non-core waterfront lands would be a step in the right direction, no matter what municipality you are in.



8,400 Stories & Growing Daily...
To date OurHometown.ca has posted a total of 8,400 stories! News, sports, hockey, lifestyle, opinion and more!

Be sure to check out our Contributors and Columnists archives!
Click on Photo or Story Title for more info
OurHometown.ca News Database Last Updated:
Dec. 31, 2021 @ 8:03 AM EST