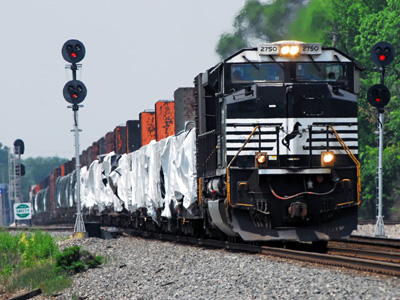 South Dundas - February 7, 2012 - The announcement by Caterpillar of the closure of their Electro-Motive locomotive plant in London, Ontario last week was a punch in the gut. Not only for the 450 workers who went from lock-out to clean their lockers out, but for the community, the province and the country as a whole. No sooner did the announcement go out, the finger-pointing game began.

It was the union's fault, it was the greedy company's fault. Blame McGuinty! Blame Harper! Blame everyone, and they should as there is enough blame to go around.

Caterpillar bought Electro-Motive in 2010. With a track-record of moving production from expensive facilities to lower-cost facilities, this move from Caterpillar should not have been a surprise to anyone. When a company starts contract negotiation by stating that everyone has to take a 50% pay cut, they are playing hardball and are prepared to walk.

The Canadian Auto Workers union representing those employees can stand to take some heat here too. For most of the facility's life, it was owned by General Motors. The same highly-paid union salaries that dragged down costs in GM's auto production occurred here as well. Union wages rose and rose, the sky is the limit to the land of milk and honey. When business was good, the company could afford to accede the request for more money and benefits. The problem with that is, Electro-Motive may have been the number one company in it's field for the first 50 years, the last 40 years have been spent as second-fiddle to General Electric. The company is not as cutting edge anymore.

The McGuinty government can carry some blame on two fronts. Not for the Premier's comments two days prior to the closure announcement, but for both stagnating industry in Ontario, and for a feckless response after the announcement. With a highly skilled, technical manufacturing plant like Electro-Motive, there is no reason why the Ontario government could not have been out helping locate a company to come into that plant and hire some if not all of the workers. How can McGuinty do that with eight years of performance that has put nails in the coffins of manufacturing plants from Cornwall to Sarnia?

The Harper government also has some blame, namely in approving the sale of Electro-Motive to Caterpillar in 2010. With Caterpillar opening new production facilities at the same time as the purchase of Electro-Motive being announced, it does not take a rocket scientist to see that Caterpillar could quite possibly relocate production outside of Canada.

In the end we all lose from this closure, just as we have from closures at Courtalds and Domtar in Cornwall, to Caldwell Linens in Iroquois to Black and Decker in Brockville and so many more plants that have closed in the last 30 years. When we lose the ability to manufacture goods and products ourselves, we become more dependent on foreign interests to do it for us. We lose trades, we lose knowledge, and ability. Losing those is the worst, as once it's gone, is very hard to get those skill sets and those people back.