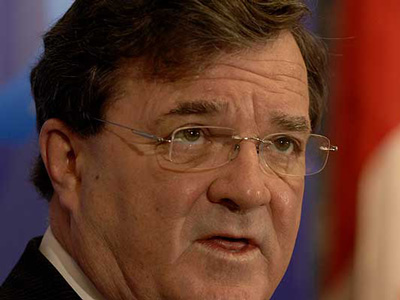 South Dundas - March 29, 2012 - I for one, am glad that budget season is over. Federal, provincial, county, city and township. All done for the year. Much like the Toronto Maple Leafs, something to stick a fork in. Done.

As the Federal budget was just tabled, lets look at it first. Cuts, cuts everywhere. CBC cut by 10%, Military cut by 10%, 12,000 jobs cut from the civil service, Old Age Security retirement age pushed for some from age 65 to 67. The shocking part for me was the Penny was being cut. So much for my two-cents worth, hopefully that wont be rounded down. But when is a cut a cut? Spending increases have not been cut. Just rate of increase in spending has been cut. In the end in 2015 Canada will still be spending more than it does now, but revenues going up will help that. If we're out of a recession. That's a big if.

"The best way to balance the budget is to create jobs so they can pay taxes," said John Baird, Foreign Affairs Minister in a radio interview heard Thursday. Interesting stance, very un-conservative.

I like the budget. The fiscal conservative in me thinks it's a good start, but doesn't cut enough. Do we need all of those government services? No we don't. Do we need government doing so much for us? No we do not. Are there changes in fiscal and taxation policy making taxation fair across the board for all Canadians? Absolutely not.

Is the Federal budget as bad as the Ontario budget tabled earlier this week? No. But still, how can spending more than the federal government collects be called good fiscal management? It can't.

Conservatism at it's root, is to conserve what you have. Creating jobs so that you have more taxpayers sounds almost liberal in view. So does spending on a credit card.

Other Budgets:

The City of Cornwall passed its budget, but not before thinking a tax increase through. Bravo for taking a surplus(over-taxation from the previous year) and applying it to the budget this year before sending out the tax bill. As such, a 1.51% increase in taxes instead of 2%. Too bad the sitting councilors didn't have the intestinal fortitude to look deep into municipal spending and see where they could trim the rest of the fat. On top of this, do not forget that MPAC assessments are going up again this year and as such, a tax increase combines with an assessment increase, meaning more of a hit on the taxpayer's pocketbook.

That MPAC assessment increase was factored into the budget discussions at least in South Dundas with their budget. No increase in the township, but again with there not being much for them to actually do, like build sidewalks so kids can safely walk to school. So bravo to them.

Unfortunately the United Counties of Stormont, Dundas & Glengarry couldn't keep their hands out of our wallets. An inflationary increase in the tax rate, plus the increased assessment monies, is slated to go for improved roads in the counties. That sounds like a good plan, improve roads for people to drive on to work to pay for more taxes. Somehow this cycle seems a bit off.

Lastly our provincial government's budget will pass. Of course you knew it would. The Ontario NDP is going to support the budget one way or another. Either some MPP's will mysteriously *cough* *cough* be sick during the budget vote. That or some left-wing policy that will do nothing for the majority, but cost us all, will get added to the budget bill to buy the NDP's support.

I suspect that the Tim Hudak Progressive Conservatives would be having a case of MPP-Flu if the NDP had been the first ones out of the gate saying they wouldn't support the budget. The only party that wants an election is the Liberals, because they have the least to lose.

No matter what budget you talk of, Federal or Provincial, County or Township, in the end only one loser in all of this; the taxpayer, after all, there is only one taxpayer.