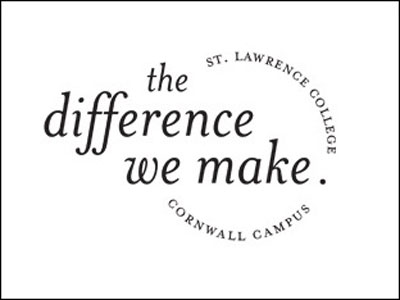 Cornwall - May. 3, 2011 - Community leaders gathered at St. Lawrence College Tuesday for the official launch of The Difference We Make, a $4.5-million fundraiser to assist with the ongoing revitalization of the Cornwall campus.

The $4.5-million fundraiser forms part of the larger, $14.5 million revamp of the campus. In 2009, the federal and provincial governments announced $10 million in funding for the revitalization project, and the college is now turning to the community-at-large to invest the remaining amount.

Of the $4.5 million, $3 million will help complete stage one of the campus revitalization project, which is bringing the older buildings and college equipment up to modern standards. Another $1 million is required to support student success by providing students with funds to help offset the costs of their education. Finally, $500,000 has been identified for the support of innovative programming. This funding will help to identify, research, and develop new programs which will support the new opportunities being brought forward in the Cornwall area.

"Our vision is bold and it is strategic," said college president and CEO Chris Whitaker. "And it's all about community. We invite you to be a part of it."

Officials used the campaign launch to demonstrate the value of St. Lawrence College to the local community.

The college offers a full range of programs designed to prepare them for hundreds of careers. The majority of the students come from Cornwall and the surrounding area, making the college a valuable asset in the community, officials noted.

"Companies invest here because of our location, their access to an educated workforce and the opportunities to collaborate with St. Lawrence College," said Cornwall campus Dean Don Fairweather.

"Having a college in Cornwall ensures those that want to pursue a post-secondary education can do so without leaving the city."

Full-time enrollment on the Cornwall campus has grown more than 46 per cent in the last decade. The college's key performance indicators (KPI), which measure graduate satisfaction, employer satisfaction, and student satisfaction, have had strong results throughout the last several years.

To learn more about The Difference We Make campaign and how to donate, visit the college's website and check out the campaign's online brochure.