| | |
| --- | --- |
| | |
Ontario Supports Growth of Dental Manufacturer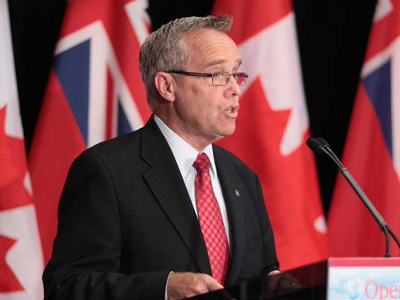 Cornwall - Aug. 17, 2011 - Ontario is helping Xenopus Inc. - a specialty dental manufacturer in Morrisburg - to enhance its product line and create 10 new jobs.

With the province's support, the company will increase exports and invest in equipment to manufacture a new high quality dental tool used by dentists during surgery. With this new tool, the company will be more competitive and projects a 15 per cent increase in sales worldwide.

Partnering with local businesses is a key component of the McGuinty government's plan to create and support new and existing jobs for Ontario families, and strengthen local economies.

"Private investment and confidence in the economy drives growth and community development. It makes winners out of businesses such as Xenopus Inc. We are proud of the contribution Eastern Ontario companies make to the economy through growth and jobs for our families," said Jim Brownell, MPP for Stormont-Dundas-South Glengarry.

"Increasing productivity and growth is key to helping Ontario's economy continue to turn the corner. That's why our government supports businesses such as Xenopus Inc. to modernize its operations and create jobs," said Sandra Pupatello, Minister of Economic Development and Trade.

"We're very pleased about the Ontario government's decision to help us with our project. This encourages us to bring new products to the global marketplace and increase our share to over 85 per cent with a focus well beyond the U.S. market," said Gustel Fischer, President, Xenopus Inc.
QUICK FACTS

Xenopus Inc. is one of only two dental bur manufacturers in Canada.
A dental bur fits on the end of a drill which is used for dental surgery.
Eighty-five per cent of the products made by Xenopus Inc. are exported to 85 countries.
The expansion by Xenopus will benefit local engineering firms and tool and die businesses.
In 2010, Ontario was named a top destination for foreign direct investment in North America, second only to California. The province attracted a total of 127 Foreign Direct Investment projects which created more than 11,200 jobs.
As a result of Ontario's tax changes, taxes on business investment were cut in half, making Ontario more competitive and encouraging business growth.

7,963 Stories & Growing Daily...
To date OurHometown.ca has posted a total of 7,963 stories! News, sports, hockey, lifestyle, opinion and more!

Be sure to check out our Contributors and Columnists archives!
Click on Photo or Story Title for more info
OurHometown.ca News Database Last Updated:
Oct. 3, 2019 @ 1:33 PM EDT