| | |
| --- | --- |
| | |
Two new large-scale distribution facilities coming to Cornwall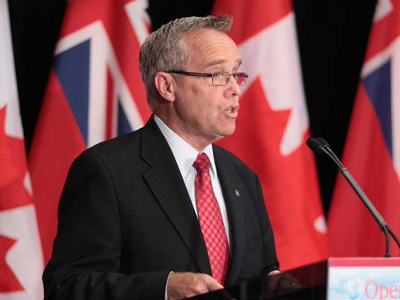 Cornwall - Aug. 25, 2011 - Ontario is helping the City of Cornwall attract new business by extending a road and upgrading the water infrastructure in the Cornwall Business Park, while creating more than 1,000 jobs in addition to hundreds of construction jobs.

With support from the province, this large-scale project will expand the existing Industrial Park Drive westward, install leading-edge water-sewer equipment and create a storm-watermanagement pond.

Upon completion, Boundary Properties will establish a distribution facility and Target, the retail store, will build a distribution centre in advance of its expansion into Canada. Combined, the two additions will reinforce Cornwall's well-recognized role as an important central Canadian transportation and logistics hub.

Partnering with businesses and modernizing Ontario's tax system are key initiatives of the McGuinty government's plan to create jobs for Ontario families and enhance programs and services that matter to Ontario families such as health care and education.

"Helping eastern Ontario municipalities grow their economies is a central feature of our plan. Improving the Cornwall Business Park's infrastructure not only creates hundreds of jobs for the residents, but sends a clear message Cornwall is open for business,"said Jim Brownell, MPP Stormont-Dundas-South Glengarry.

"Attracting new business investment is essential to ensuring Ontario's economy continues to turn the corner. Through this partnership, we're bolstering the City of Cornwall's wellrecognized role as a major distribution centre, while creating jobs for the local community's hard-working families," said Sandra Pupatello, Minister of Economic Development and Trade.

"With support from the Government of Ontario, Cornwall is working to expand the Cornwall Business Park, diversify its local economy and solidify its well-earned reputation as an important central Canadian logistics hub," said Bob Kilger, Mayor of Cornwall.

QUICK FACTS
The Cornwall Business Park is located in the eastern part of the City, adjacent to Highway 401. At well over 1,600 acres, the Business Park is home to one of Canada's largest distribution centres, award-winning manufacturers and prominent transportation companies.
In 2010, the Government of Ontario supported the construction of Cornwall Business Park's Optimum Drive, which facilitated the establishment of a Shoppers Drug Mart distribution centre.
Over the last 30 months, the City of Cornwall has issued over a quarter of a billion dollars in building permits. Many of these projects were supported by the province, including the Cornwall Community Hospital, Benson Centre, and upgrading the Highway 401 interchange at Boundary Road.
In 2010, Ontario was named a top destination for foreign direct investment (FDI) in North America, second only to California. § As a result of the tax changes in Ontario, including the HST, taxes on business investment were cut in half, making Ontario more competitive and encouraging new business investments.

7,963 Stories & Growing Daily...
To date OurHometown.ca has posted a total of 7,963 stories! News, sports, hockey, lifestyle, opinion and more!

Be sure to check out our Contributors and Columnists archives!
Click on Photo or Story Title for more info
OurHometown.ca News Database Last Updated:
Oct. 3, 2019 @ 1:33 PM EDT