SNC Hopes To Pursue American Eel Sampling Next Season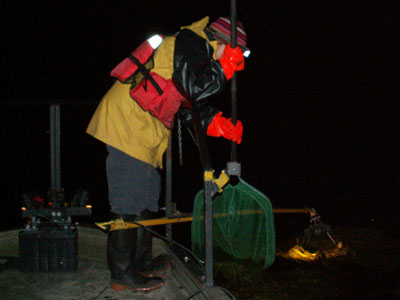 Finch - Nov. 9, 2011 - Although none were netted in 2011, South Nation Conservation will apply for provincial and federal funding next season to continue sampling for American Eels in its 4,000 square-km watershed.

Once abundant to the point of constituting one of the top three commercial species in the Great Lakes and St. Lawrence River drainage areas, the species has declined drastically in the region - an estimated 99 per cent since the 1970s.

The project to determine the status of American Eels involves establishing their current range and population numbers, said SNC Senior Fish & Wildlife Technician Naomi Langlois-Anderson. South Nation has partnered with Carleton University's Biology Department, Plenty Canada, the Mohawk Council of Akwesasne's Department of the Environment, and the Ministry of Natural Resources in conducting the most recent research.

Since 2009, the partnership has received funding from MNR and Environment Canada's Species at Risk program to expand sampling efforts.

Public participation is crucial in tracking eel activity, Langlois-Anderson emphasized: "Anyone catching or observing an American eel is asked to let us know about it. If one is caught, please release it. A photo and information such as location of the eel, length, weight, and general condition are very important to the project."

This fall, using a 17-ft. flat-bottomed boat and electrofishing gear, SNC and partners sampled six sections of the South Nation River, each being 4.2 km long. Funding is being sought to cover a final segment from Cass Bridge to Algonquin in 2012.

Equipped with as small gas-powered generator, Langlois-Anderson said that electrofishing from the boat stuns fish within three to four meters; they recover within a few minutes.

Although no eels were caught this way, one was observed near the outlet of Hess Creek downstream from Cass Bridge Conservation Area. The sighting was reported to MNR and circulated to previous and current eel project partners.

The snake-like, brown-to-tan coloured eels with small pointed heads have traditionally been a staple in the diets of native North Americans. In a remarkable natural phenomenon, hatchlings swim 6,000 km from the Sargasso Sea to reach freshwater destinations where they feed and mature before returning to the sea to spawn 10-30 years later.

Anecdotal information from anglers is that eels were once abundant in the South Nation watershed but have been seen less and less since the 1980s.



7,974 Stories & Growing Daily...
To date OurHometown.ca has posted a total of 7,974 stories! News, sports, hockey, lifestyle, opinion and more!

Be sure to check out our Contributors and Columnists archives!
Click on Photo or Story Title for more info
OurHometown.ca News Database Last Updated:
Feb. 21, 2020 @ 12:20 PM EST