Santa has a new home at Cornwall Square
Cornwall - November 22, 2011 - Shoppers at Cornwall Square this holiday season will note that Santa Claus has a new home this year. The mall has a new Santa display inspired by the classic Christmas story, 'Twas The Night Before Christmas.

"The new Santa display has been in the works since February 2011," said Karen Burns, Marketing Director. "Cornwall Square has been and continues to be very traditional in the concept of the Santa display. A bigger than life story book seemed to fit the bill."

The story book is eight feet tall and more than sixteen feet long and was produced by Dave Lepson from Working Designs.

Working Designs and Installations specializes in the design, fabrication and management of exhibits, events and environments for permanent and temporary venues. Breakthrough creative and extraordinary services are the hallmark of their organization.

This group of talented individuals has worked with many nationally known clients to create unique customer experiences and award winning displays. Approximately twenty hours went into the installation of the display at centre court and there are over 2,000 lights that illuminate the display.

Santa arrived at Cornwall Square on Saturday November 19th to a jam packed food court. Santa, entertainer Jeannette Arsenault and the tenants of Cornwall Square hosted a PJ Breakfast with Santa. Photos of the new display and Santa Arrival can be seen below.

Santa is at the mall Tuesday to Friday from 11:30 am to 3:00 pm and from 4:00 pm to 7:00 pm. He is also there on Saturdays and Sundays from 11:00 am to 2:00 pm and 3:00 pm to 5:00 pm.

With over 60 stores and services, including a food court, Cornwall Square continues to be a leader in the community and is recognized as Cornwall's busiest shopping destination. Cornwall Square is managed by Redcliff Realty Management Inc., a Canadian property management company that provides leasing and property management services for a portfolio of over 34 million square feet. Cornwall Square is owned by Partners Real Estate Investment Trust ("Partners") which trades on the TSX-V under the ticker symbol PAR.UN.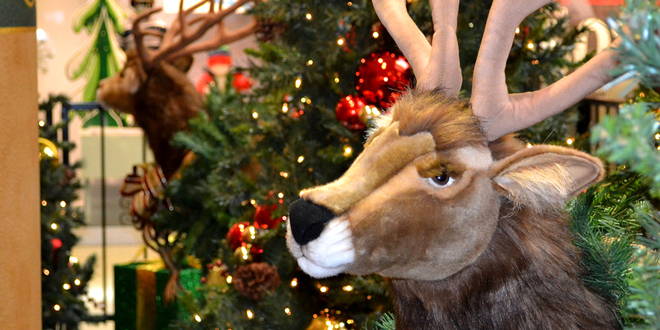 8,012 Stories & Growing Daily...
To date OurHometown.ca has posted a total of 8,012 stories! News, sports, hockey, lifestyle, opinion and more!

Be sure to check out our Contributors and Columnists archives!
Click on Photo or Story Title for more info
OurHometown.ca News Database Last Updated:
Feb. 28, 2020 @ 3:03 PM EST