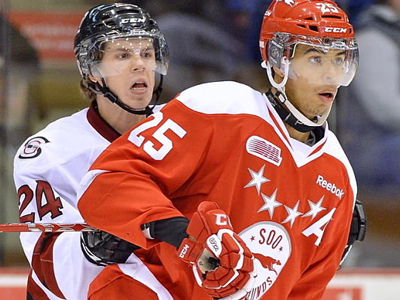 Edmonton - June 30, 2013 - The closer we got to the 2013 NHL Entry Draft, the more it look as though the Edmonton Oilers would be faced with a rather tough decision.

While the first six picks didn't go as expected, as Seth Jones fell to the Nashville Predators at number four, it ultimately mattered little to the Oilers.

It came down to Valeri Nichuskin or Darnell Nurse and the organization decided to go with the towering Sault Ste Marie Greyhounds blueliner.

Nurse joins a defensive core that suddenly doesn't look as paper thin as it once did. With Justin Schultz, Jeff Petry and Ladislav Smid already in the mix with the big club and the likes of Oscar Klefbom, Martin Marincin, Martin Gernat and David Musil in the pipeline, the Oilers certainly have some organizational depth on the backend.

While some saw Craig MacTavish leaning towards selecting Nichuskin with their first round selection, passing up on a guy who was arguably the second best defenceman in the draft, was simply too much for the rookie GM to ignore. At 6' 5" Nurse tends to standout in a crowd and the Oilers are hoping he develops into a top three shutdown defenceman.

The trio of Klefbom, Nurse and Schultz may not be able to carry the mail at the NHL level in the here and now but they are arguably the best group of young defencemen this organization have ever had at one given time. Unlike the last three seasons, there is absolutely no need for Edmonton to rush the youngster to the National Hockey League.

The eighteen year old managed to put together a 12 goal, 41 point campaign in 2013, while amassing 116 penalty minutes, in 68 games with the Greyhounds. With CHL defencemen of the year Ryan Sproul likely headed to the Grand Rapids Griffins in 2013-14, Nurse should see those totals rise with increased opportunity on the man advantage, as he continues to develop his all around game.

However, it will be his physical style of play and skating ability that will be his calling card at this level. Should Darnell Nurse turnout to be the hard-hitting, shutdown defenceman that many project him to be, Oilers fans could be in for a real treat...for the next number of years.