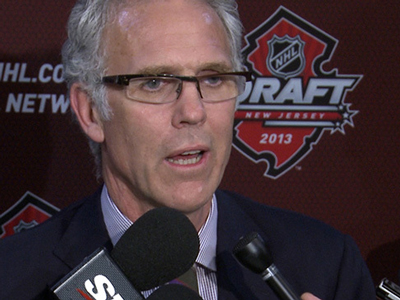 Edmonton - July 1, 2013 - When Craig MacTavish took over as general manager of the Edmonton Oilers, he promised fans he would make the necessary "bold moves" to improve the hockey club.

In the minds of many, those moves needed to start happening at the 2013 NHL Entry Draft. Unfortunately for them, the fireworks they were hoping to see never materialized and not a single "bold move" took place.

Some have already taken to ripping MacTavish and the organization for their lack of "production" during Sunday's marathon session but in reality, his debut performance on the draft floor was just fine.

There was no big splash but the Oilers did manage to add a top-flight prospect in Darnell Nurse and walked away with a total of ten selections, after heading to New Jersey with just six.

After hearing Edmonton's name in nearly every significant rumour out there, people got their hopes up. However, sometimes it's the moves you decide not to make, that are ultimately the best thing for the club. As far as looking for potential trade partners, no one appeared to be more active than MacT but nothing came to fruition.

He tried pulling off a fairly significant swap with the Philadelphia Flyers for veteran defenceman Braydon Coburn but could not hammer out a deal with Paul Holmgren. Neither felt the other's offer was good enough and both stood their ground. Simple.

That being said, don't be surprised to see the two re-visit this very subject, in the not to distant future.

The Oilers were in the mix for netminder Cory Schneider but refused to meet the Vancouver Canucks demands. GM Mike Gillis was after Edmonton's seventh overall pick, a prospect and something else, for the twenty-seven year old backstop. While Schneider would have been an upgrade on current starter Devan Dubnyk, it would not have warranted paying such a premium.

Thankfully, MacT turned down the offer and watched the New Jersey Devils hand over the number nine selection, which turned out to be London Knights centre Bo Horvat, in exchange for the former twenty-sixth overall pick.

Bringing us to the other names that moved via trade:

Dave Bolland, Cal Clutterbuck, Michael Frolik, Jamie McBain/Andrej Sekera

In my mind, the Winnipeg Jets basically stole Frolik for a third and fifth round pick. Personally, I would have loved for MacT and company to grab the talented winger but apparently the organization didn't feel he was a good fit. Outside of that, it's hard for me to lay blame on the club for not going out and acquiring any of the other aforementioned players.

Bolland cost the Toronto Maple Leafs three draft picks, a 2nd and 4th in 2013 and another 4th in 2014, but has just one year remaining on his current deal, before becoming an unrestricted free agent. While the cost wasn't huge, it's not as though the Leafs are getting a world-beater here. Bolland is a third line centre, that makes $3.4 million and brings little of what the Oilers need to the table.

Clutterbuck was clearly on Edmonton's shopping list but once the New York Islanders decided to dangle former fifth overall pick Nino Niederreiter in front of them, that ship had sailed. Could you imagine the reaction to a Clutterbuck and a pick for Magnus Paajarvi swap? That is the type of offer the Oilers would have had to make, in order to match the Isles. No thanks.

As for McBain and Sekera, both are quality NHL blueliners that could have potentially helped the Oilers in 2013-14. One problem though...they were traded for each other. In order for MacTavish to have got his hands on either, it would have likely come at the cost of one of Jeff Petry or Ladislav Smid. Would making such a move improve this roster in any way, shape or form?

While the fans want to see management upgrade the roster, making moves for the sake of making them, is not the way to go. Contrary to popular belief, this was not going to be the weekend we saw the likes of an Ales Hemsky or Shawn Horcoff possibly move. While you generally see some movement on draft day, it's a day that most organization's focus on their future and not their immediate needs.

The Oilers are no different and did exactly that.

Heading into the draft, it appeared as though Edmonton were hoping to land Ottawa 67's centre Sean Monahan with their seventh overall pick. That being said, there was no guarantee the two-way centre would still be around and all signs were pointing to him being off the board. The decision came down to Nurse or Valeri Nichuskin and they decided to go with the big defenceman. Not surprisingly, some liked the pick and some did not.

All I know, is when you hear a guy like Sportsnet's Hockey Central Tonight host Jeff Marek, an OHL guru of sorts, say he believes Nurse will "end up being the best dman from this draft", it is kind of hard to shoot down the pick.

What seems to have most people worked up, was the decision to trade down not once but twice, including their second round pick at number thirty-seven, to acquire an additional four picks. MacTavish was using his second round picks as "trade currency" to improve his NHL roster but didn't see anything worth targeting. They were hoping to snag Halifax Mooseheads netminder Zach Fucale, who somehow went unselected in round one, but the Montreal Canadiens grabbed him at thirty-six, one spot in front of the Oilers.

With Fucale off the board, Edmonton decided to take the Los Angeles Kings up on their offer of three picks, a 2nd, 3rd and 4th, in exchange for #37. Not long after, they would make a similar move with the St. Louis Blues, acquiring a 3rd and two more 4th round picks, for #56. So where's the issue?

There are those who will argue trading a second rounder for picks later in the draft, is bad asset management but in all honesty, a second round pick guarantees you absolutely zero. Just take a look at the Oilers current roster. Of all the regulars, the only second round picks are Petry and Justin Schultz. While both are very good player, finding a guy that good in the second round, rarely happens.

Obviously, in the minds of Stu MacGregor and his scouting staff, taking the additional picks was the better move. Pretty simple. By the sounds of it, Marc Olivier-Roy was a solid selection at #56 and they may have found themselves a couple of diamonds in the rough at #83 with Bogdan Yakimov and Anton Slepyshev at #88. They also made their final pick at #188 count, selecting Calgary Hitmen forward and all around pain-in-the ass, Greg Chase.

Were there a few of those so-called "reach picks"? Of course but every team will have those in the later rounds. Unless of course you are the Calgary Flames and you decide to use them in the first round. Bottom line, they added more skill into the organization. Mission accomplished.

Frankly, the Oilers lack of success in the standings, have left many with unrealistic expectations when it comes to the draft. Picking first overall for three consecutive years, can tend to do that. While all three of Taylor Hall, Ryan Nugent-Hopkins and Nail Yakupov proved to be capable of playing at this level, very few are.

In my mind, Craig MacTavish did fine job for his first time at the fair and showed great restraint, in resisting the temptation of making a bad trade. The point of making a deal is to improve your roster, not to appease the masses. He will have more than enough opportunity to make good on his promise of making "bold moves"...though it might take a longer than some were hoping.