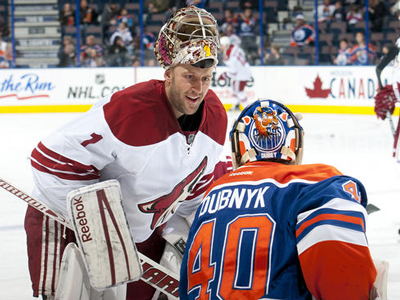 Edmonton - July 3, 2013 - There those who feel the Edmonton Oilers are set in goal with Devan Dubnyk as their starting netminder.

There are others, myself included, who feel the twenty-seven year old has taken huge strides forward in recent years but still struggles to shut the door when necessary.

Unfortunately for Dubnyk, his general manager appears to be part of group two, leading to speculation the Oilers might just be in the market for a new starting netminder.

Over the last couple of weeks, Craig MacTavish has been sniffing around for an upgrade in goal.

Edmonton were in the mix for both Jonathan Bernier and Cory Schneider, though the latter was likely never a real option, and according to Oilers NOW host Bob Stauffer, MacT spoke with a "certain agent" about one of his clients at the NHL Entry Draft. Reading between the lines, one would guess he was referring to Rich Winter and Ilya Bryzgalov.

Clearly management isn't sold on Dubnyk being their guy and frankly, they shouldn't be, (see here). Having said that, with Devan signed for one more year at $3.5 million.and possibly ready to take that final step in his development, now is not the time to look for his replacement.

If anything, the focus should be on finding a reliable backup, who could help the former first round pick try and solidify his spot as the Oilers #1.

It's pretty straight forward. Do they go out and bring in veteran guy to compliment Dubnyk or a younger goaltender to push him? If the plan is to get younger, it will have to be via trade, as there are no quality netminders available in the free agent market. Some point to Boston Bruins backup Anton Khudobin as being a guy that could push for the starters role but in my opinion, that would be nothing more than wishful thinking.

Prior to last season's fourteen appearances with the Bruins, Khudobin had seen action in all seven games, over the previous three seasons in Boston and Minnesota. While the twenty-seven year old had some nice numbers in 2013, (2.32GAA/.920 SV%), we are talking about a former seventh round pick....in 2004!!!! At 5'11" he is tiny by NHL standards and not what this organization needs.

In all honesty, MacT needs to go out and find a healthy 2013 version of Nikolai Khabibulin. Khabby was the perfect backup last season...outside of his inability to stay healthy. Some feel Dubnyk needs to be pushed, whereas I think he needs to be giving the keys to the car and let him sink or swim. I said it a few months back and stand by it, the target should be Phoenix Coyotes backup Jason Labarbera.

The thirty-three year old has been a career backup but is more than capable of taking on 15-25 game workload. Over the last four years, Labarbera posted a 22-26-9 record with 2.64GAA and a .924 SV%. Solid numbers for a #2. The 6' 3" tender plays a similar style to Dubnyk and has always been considered to be a good guy in the dressing room. A necessary requirement for any backup goalie but an added bonus, for a team about to lose its longtime captain.

There are a handful of other options out there, Ray Emery, Mathieu Garon, Johan Hedberg, but they are few and far between. MacTavish could certainly look at bringing in a Bryzgalov, Jaroslav Halak or Ryan Miller, all on one year deals, but would the organization be any further ahead? Would allowing Dubnyk to go out and see what he can do, in a pressure situation, not be the better way to go?

The Edmonton Oilers drafted Devan Dubnyk back in 2004 and for various reasons, it took some time for him to mature into a NHL goaltender. At this stage of his career, there is no question he is a legitimate National Hockey League starting goaltender. However, the jury is still out on just how good he can be. The Oilers owe it to both themselves and the player, to give him the opportunity to carry the mail, Should he not be up to the challenge, they will have plenty of opportunity to find his replacement for 2014-15.