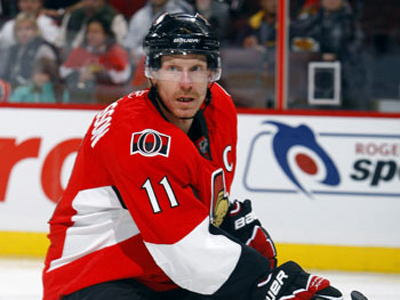 Grand Rapids - July 6, 2013 - The Detroit Red Wings signed Daniel Alfredsson and Stephen Weiss on the first day of the open free agent market yesterday, upgrading their forward corps even while letting Valterri Filppula, and likely Daniel Cleary and Damien Brunner, walk.

The Alfredsson signing has the potential to be a more offensively-oriented Dallas Drake acquisition, as Alfredsson is highly motivated to win his first championship in the final days of his career. Not highly-motivated enough to take a more minor cap hit, perhaps, but still - I don't have him pegged as a Mike Modano redux.

I don't know a ton about Stephen Weiss, but the expert consensus seems to be he'll be the second line center the Wings were looking for with Filppula's departure. He was their main target on the market so whatever you think of that emphasis over, say, Mikhail Grabovski, it's cool to see them actually achieve a goal (in contrast with last summer).

Losing Filppula hurts - I'm always more attached to former Griffins. But he's been a bit of a disappointment. The Wings were definitely a better team when he was in the lineup, but he seemed to have plateaued. I'm not sure what Yzerman is thinking indulging his financial demands, especially given his former position as a Red Wings exec on the inside track of Fil's development. I feel a bit like this is another Lapointe departure and that's a bummer.

On the other hand, the Wings made big veteran free agent moves that summer and it turned out pretty well, if you recall. So it may not be all bad.

And losing Brunner hurts a little too. I would have been happier if he'd kept his demands reasonable and stuck around. But I just need to remember that he couldn't crack the top six consistently on this team, so it may not be a great loss. I have serious doubts about his ability to produce elsewhere. We'll see.

Cleary's still being pursued by the Wings, but I'm not entirely sure why. He's been one of my favorites for years, but he's so beat up his effectiveness has taken a nose-dive. If he wants to continue playing, he's a warrior, but I'd rather his lineup spot go to someone not about to fall apart. So if the Wings don't make a deal, it'll be okay.

So, two big forward signings and the Wings' D is unchanged. That's not great, but there's a chance some of the forward moves necessary to get under the roster limit could help with that. The signings boost the Wings' chances in the Flortheast Division and could set them up for a trade deadline final piece-type move, but upgrading the defense somehow has to be a goal of this off-season.