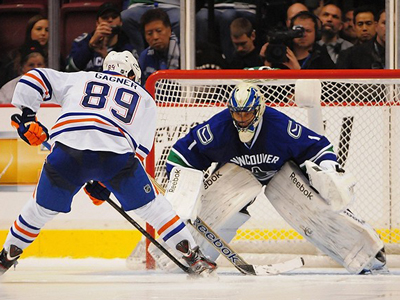 Edmonton - July 10, 2013 - Following the final session of the Edmonton Oilers week long Development Camp, general manager Craig MacTavish hinted at the very real possibility of Sam Gagner eventually filing for salary arbitration.

For a deal that seemed to be more a matter of when not if it would get done, the two sides have clearly hit a snag in negotiations.

Should they not be able to come to some sort of agreement and Gagner decides to go the arbitration route, in my mind, MacTavish will have no choice but to trade the pending unrestricted free agent.

The Oilers decision to not sign the former sixth overall pick to a long term extension prior to the 2013 season, combined with the fact Gagner had himself a fairly productive season and the club's current lack of depth down the middle, has unquestionably put the player in the drivers seat. Having said that, the organization will not break the bank to try and keep the soon-to-be twenty-four year old in Oilers silks...and nor should they.

By the sounds of it, Edmonton offered Gagner a deal in late June and was in the neighbourhood of $4.5-$5 million a year. My guess would be it was likely closer to $4.5 million, which may not have been enough of a hike from his 2013 salary of $3.2 million. No one can blame a guy for taking advantage of his situation and trying to secure himself the best deal he possibly can. Be it in the form of dollars or a potential no movement clause, which the former London Knights standout has apparently requested, the player is well within his right.

However, using salary arbitration as vehicle to get that deal done, when you are not one of the top five players within the organization, could be somewhat of a risky move. That is of course, if the player's actual intent is to remain a member of his current club. Gagner has said all the right things and that he wants to be part of the solution moving forward but if that is indeed the case, he hast to come to grips with his spot in the pecking order.

In the eyes of the management team, Sam is not on the same level as forwards Jordan Eberle, Taylor Hall, Ryan Nugent-Hopkins or Nail Yakupov and also slots in behind blueliners Justin Schultz and Oscar Klefbom. No question they view him as an important piece of the puzzle...just not in a starring role. On this team, he is nothing more than a complimentary piece, whereas he probably sees himself as much more than that.

Which is all well and but as general manager of the hockey club, MacTavish has to do what is best for the future betterment of the club and allowing Gagner to possibly walk away at season's end, with no return, would be doing the complete opposite. Unfortunately for the Oilers rookie GM, the UFA market has been dwindled down to one quality centre, in former Toronto Maple Leaf Mikhail Grabovski, and the likes of Nik Antropov. Not exactly a ton to choose from but something he may have to seriously consider.

Should MacT need to ship Gagner out of town, the chances of him getting a decent second line centre back would be almost zero. Meaning the return must revolve around either a top pairing defenceman or a second line left winger. With Edmonton being as thin as they are down the middle of the ice, losing Gagner on top of already having lost Shawn Horcoff, would obviously create a massive hole. Having said that, the situation is what it is.

Be it signing a Grabrovski, acquiring an older guy, via free agency or trade, as a one year stop gap or perhaps they look at making that so-called "bold move" and see what it would take to acquire centre Steve Ott and/or winger Thomas Vanek, good call Lowetide, who are both entering the final year of their respective deals.

There may not be a ton of options out there but there are some and they all beat watching Sam Gagner walk away for nothing come next July. At this point, it's pretty straightforward. They either sign him to a deal in the very near future or move him along and address some of their other needs...while they still can.