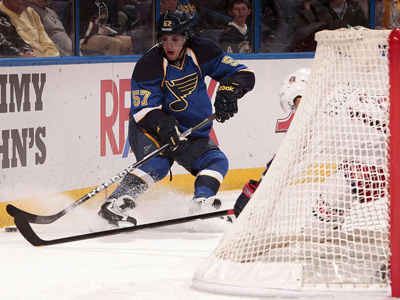 Edmonton - July 11, 2013 - Just a few short days ago, a piece appeared in this very spot, , focusing on the possibility of Magnus Paajarvi being moved via trade by the Edmonton Oilers.

In my mind, using Paajarvi "as the bait to acquire anything short of a true top six forward or top pairing defenceman, entering the prime years of their career, would make little to no sense".

With that being said, general manager Craig MacTavish decided to role the dice on Wednesday afternoon, moving the talented Swede in exchange for St. Louis Blues winger David Perron.

Give the Oilers rookie GM full credit, for not shying away from making what was likely a very difficult decision. For a team starving to add size to its current forward group, moving a 6' 3", 200 pound twenty-two year old who skates like the wind, seemed to be a rather peculiar route to go.

Especially when you consider the former tenth overall pick had just started to find his way as an everyday National Hockey League player.

That being said, at some point, Edmonton was going to have to part with one of their young talented pieces, in order to take a step forward in the here and now. As of right now, there is no question who the best player in the deal is. At twenty-five years of age, Perron has already posted a pair of twenty goal campaigns, including one fifty point season and another two forty point years. He is unquestionably a top six forward and will instantly slot in behind Taylor Hall, as the club's second line left winger.

While I am not totally sold on a trio of Perron, Sam Gagner and Nail Yakupov being a great fit, the addition of another talented player into the mix, and one about to enter the prime years of his career, will definitely give new head coach Dallas Eakins some options to work with. Perhaps the former twenty-sixth overall pick will instead find himself on a line with Ryan Nugent-Hopkins and one of Jordan Eberle or Yakupov.

Sheltering the young Russian sniper with the defensively sound Nugent-Hopkins and a player exiting a Ken Hitchcock coached team, might not be such a bad idea. Leaving Hall and Eberle to anchor the so-called "top line" with Gagner or whomever ends up playing centre for the Oilers in 2013-14.

Regardless of the route they decide to go, for the first time since embarking on this "re-build", Edmonton finally appear to have six legitimate NHL forwards on their top two lines. Something they could not have said, prior to yesterday afternoon.

However, at the end of the day, the Edmonton Oilers will not win this deal. To give up Paajarvi and a second round pick in 2014, for a player that did not fit into the Blues future plans and one with a concussion history to boot, was a hefty price to pay. Unfortunately for Craig MacTavish, that is sometimes the cost of doing business.

Should this move help push the Oilers back into the post-season for the first time since 2006 or at least allow them to take a massive step forward in the club's overall development, than moving the talented Swede was well worth the risk. On the other hand, if it ends up being more of the same old story during the upcoming 2013-14 campaign, than one would seriously have to question the rationale behind making such a move.

No one said being an NHL general manager would be easy or for that matter fair. It comes with the territory. Craig MacTavish was well aware of what he was getting into, when he agreed to take on the role of GM for the Edmonton Oilers. He said from the outset that talk was cheap and that he would ultimately be judged on his body of work. The four time Stanley Cup winner promised to be a man of action and thus far, he has delivered on that promise. Now it is up to the players to start delivering on the ice.