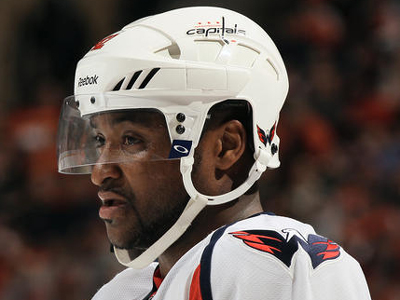 Edmonton - July 15, 2013 - With the month of August quickly approaching and many NHL teams having already filled out the vast majority of their rosters via trade and/or unrestricted free agency, Edmonton Oilers general manager Craig MacTavish has been unable to find Ales Hemsky a new home.

While no one would ever question the veteran winger's talent, finding someone willing to take on his $5 million cap hit, has proved to be rather challenging for the rookie GM.

Following Ilya Kovalchuk's surprising retirement from the National Hockey League, some were thinking New Jersey could be a possible landing spot for the talented Czech playmaker.

While on the surface, such a move looks as though it could make some sense, one has to ask themselves one simple question: Why would the Devils want any part of bringing in Hemsky?

With all due respect to Ales, New Jersey wasn't a playoff team with Kovalchuk on their roster and replacing him with a guy who has battled injuries in each of the past four season, while watching his production continually diminish, isn't going to get them any closer. Also with the Devils recent financial difficulties being what they are, adding a $5 million hit to their payroll is likely not high on ownership's priority list.

My guess would be, they are just fine with giving former Florida Panthers first rounder Rostislav Olesz a shot at earning a top six spot in 2013-14, for the paltry sum of $1 million. Is it an ideal situation? Not at all but the situation being what it is and with New Jersey already forfeiting their 2014 first round pick, ironically because the Kovalchuck signing, they are in a no-win situation.

Remember when everyone jumped all over TSN's Craig Button a couple of months back, for his comments on Hemsky trade value? Well, when you scratch the Devils off the list of potential suitors, there really isn't a whole lot left and no one seems to be banging down MacT's door for #83. If anything, the discussions have been few and far between.

Could he be a fit in Long Island? Perhaps but with the penny-pinching Islanders already above the salary cap floor, making a move with New York would seem highly unlikely. Florida could be a real possibility but Edmonton would unquestionably have to take back Scottie Upshall, at $3.5 million over the next two seasons.

The former sixth overall pick plays the agitating style of game the Oilers would love to add into their bottom six but the Fort McMurray native is coming off a pair of dreadful campaigns with the Panthers, putting up all of ten points in fifty-three games and dealing with numerous injuries.

While a Hemsky for Upshall swap could very well happen, in my mind, the better move would be trying to go out and acquire Washington's Joel Ward. Ever since signing a four year/$12 million deal as a UFA in 2011, the former Nashville Predator has been looked upon as a bit of a disappointment in D.C., despite doing what he's always done.

Ward plays a very simple 200 foot game, banging bodies whenever possible, making room for both himself and his teammates, while chipping in from time to time on the scoresheet. He is your prototypical third line winger who helps on the penalty kill but can also be used as a net presence on the man advantage. That being said, the Caps were expecting the guy who put on a scoring clinic during the Predators 2011 playoff run, not a 10-15 goal man.

With his rather hefty price tag on the books for another two seasons, general manager George McPhee would surely entertain the idea of moving the thirty-two year old...especially if he could get his hands on player like Hemsky in return. Washington could definitely use another top six forward and watching the former thirteenth overall pick play alongside Alex Ovechkin, be it at even strength or on the power play, could be worth the price of admission on its own.

Should the two sides be able to come to some sort of agreement, Edmonton would likely ask for an additional asset in return, potentially a draft pick, as they would be taking on Ward's extra year and give Washington a little more wiggle room under the cap in 2014-15. In all honesty, it's a win-win for everyone involved.

From the Oilers standpoint, they would be acquiring the type of player they were hoping to add to their bottom six during the off-season and possibly get an extra asset in the deal. The Capitals would be adding $2 million in salary for the coming season but actually be saving $1 million in making the move. As an added bonus, they would be inserting another world-class talent to their lineup, without giving up a major piece off their current roster.

The change of scenery would likely do both players a world of good, as Hemsky would love to do nothing more, than prove his critics wrong, and show the entire hockey world just how good a player he could be. As for Ward, one would think he would absolutely relish the opportunity of playing in Canada and joining such a young and upcoming group, in which he could play a key role both on and off the ice.

Ultimately, the Edmonton Oilers do not have to trade Ales Hemsky prior to the 2013-14 season. They could hold on to him and look at moving him at next year's NHL Trade Deadline but would the possible return really change? The club has gone down this road before and have clearly never received an offer to their liking. The other thing to consider in all of this, is the player.

While the organization must do what is best for them, at the end of the day, Edmonton will not win this trade...no matter when they decide to make it. Having a player of Hemsky's calibre stick around to play third line minutes with the likes of Boyd Gordon, Ryan Jones or Jesse Joensuu, would not only be flat out wrong but frankly insulting.