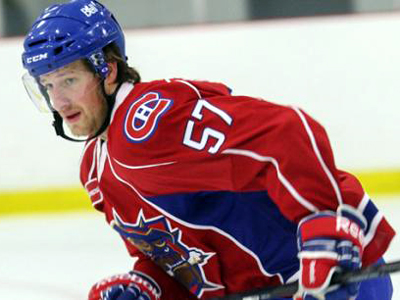 Cornwall - July 16, 2013 - A dream that many young Canadians hold has come to an end for Blake Geoffrion. Geoffrion, who is the grandson of former Montreal Canadien great Bernie "Boom Boom" Geoffrion, released an official announcement of his retirement from hockey.

Now, if this doesn't seem out of the ordinary to you, it should. Blake Geoffrion is only 25 years old and was a huge Canadians prospect. Spending most of his time in the AHL with Montreal's Hamilton Bulldogs affiliate, Geoffrion was on the receiving end of a devastating hit by J.P. Cote of the Syracuse Crush last November. (Youtube the hit, I'll wait…….nasty, right?). That hit left him with a depressed skull fracture in which he has pretty much never recovered from. Here is his official statement:

"After suffering an injury in November and taking time to recover and reflect, I have decided to step away from the game of hockey for the time being.I would like to thank [owner] Geoff Molson, [general manager] Marc Bergevin , the entire Montreal Canadiens organization as well as the Hamilton Bulldogs organization for everything they have done for me. They have been unwavering in their support, professionalism and kindness. I cannot thank them enough."

Of course this will start the whole safety discussion once again and how hockey leagues around the world should handle it. It's sad when a promising 25 year old prospect has his whole career taken away from him in one single moment. Hockey is a dangerous and physical sport, there's no two ways about it and unfortunately, moments like Geoffrion's happen.

Not all is lost for him though. Today, a day after his retirement announcement, the Columbus Blue Jackets announced that they have hired him on as a professional scout. A silver lining to keep him in the game that he loves so much. Classy move by the Columbus brass.

Blake Geoffrion played in 55 games with the Nashville Predators and Montreal Canadiens.