Undrafted Soo Greyhound Sergey Tolchinsky could still make NHL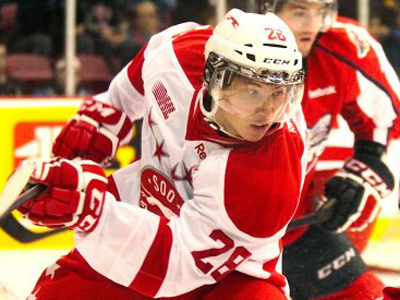 Cornwall - July 26, 2013 - Sault Ste Marie Greyhounds Sergey Tolchinsky did not get to hear his name get called in June at the National Hockey League Entry Draft. Despite being rated at number 56 by some scouting specialists, Tolchinsky sat in waiting. He did not let that get the better of him though.

Instead of moping around about not getting called, Tolchinsky made an impressive mark at the New York Rangers prospect development camp. Signing to a tryout agreement with both the Rangers and the Carolina Hurricanes, Tolchinsky was making heads shake with both teams wondering why he was left unchosen. Although the likes of both teams offering out a 3 year entry level contract seem slim, he's still making his mark.

Tolchinsky would only be able to be signed to the clubs that signed him to the tryout contracts. Out of both New York and Carolina, Carolina would seem a better fit as they are forming into a somewhat of a young team. If I were Jim Rutherford though, I wouldn't extend an offer and here's why.

Tolchinsky only has one year of OHL play under his belt. At only 5'8" and 160 pounds, he's still going to fill out. Another year with the Greyhounds would help him out tremendously and only increase his draft ranking for next year. In 62 games last year he amassed 51 points and he won't defect to Russia which seems to be the ordeal of the day. He's been training in North America since he was 12 so he's going to stick around for a while. Give him that extra year to mould into something spectacular. He might give Sam Reinhart, Aaron Ekblad and Connor McDavid a run for their money. Who knows?

The Soo Greyhounds start the 2013-2014 season off on Friday, September, 20th as they head to Sudbury to take on the Wolves.


3,281 Stories & Growing Daily...

To date HometownHockey.ca has posted a total of 3,281 hockey stories!

Be sure to check out our Columnists archives or, why not Contribute a Story yourself!



HometownHockey.ca

offers a very generous revenue sharing opportunity for our Columnists. If you are interested in learning more details about writing for us, please send us an

EMAIL.
Click on Photo or Story Title for more info
HometownHockey.ca News Database Last Updated:
Mar. 21, 2017 @ 4:47 PM EDT