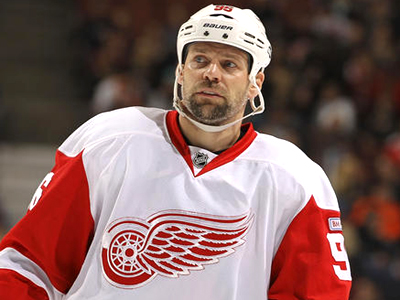 Grand Rapids - July 12, 2012 - One of the unfortunate downsides to the Wings' surplus up front the past couple years has been seeing guys like Kirk Maltby and Kris Draper forced into retirement, whether personally ready or not.

That happened two years ago to Kirk, who was admittedly due to hang them up even if he didn't realize it until October, and last year to Kris, who called it a career in July. It's mainly unfortunate from a nostalgia standpoint rather than a practical one, but it's still hard to see.

This year, it's Tomas Holmstrom who is being pushed out by guys with illustrious names like Cory Emmerton and Jan Mursak. But the difference is he's still drawing some interest from other teams, despite no longer being the player he once was. This is how weak the market is.

The plus side of this is he has a chance to avoid the indignity of being waived, as Maltby was. The downside is we'd have to see him in different colors, after years of watching him be the focal point of the Wings' power play, should he sign elsewhere.

This is a guy who has taken absurd levels of abuse over 1,000 games, yet he's is still undecided about whether to return for another year of hacks and cross-checks to the back. It really seemed like there was no question that he'd be too worn out to go on, especially when Nick Lidstrom retired. That there's any question at all, nearly three months after the Wings bowed out of the playoffs, is evidence of a guy who loves the game.

Still, I suspect he'll ultimately decide to retire rather than sign elsewhere. He's too tied to the Detroit area and to the Wings to do otherwise. But it's obviously not an easy decision for him. And despite his recent downward trajectory, I'll miss him. Nobody redirects the puck like Holmstrom.