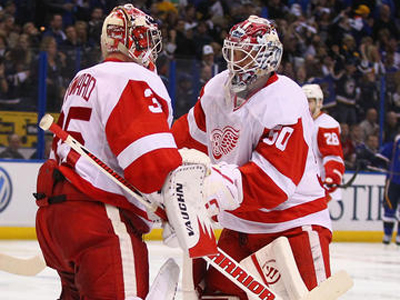 Grand Rapids - January 20, 2013 - Okay, Get It Out of Your System: It's only the first game of the Detroit Red Wings season, but it was pretty terrible. It's far too early to panic, but color me concerned. In a season this short, they can't afford not to show up every night. They need to move onward and upward from this or it will be a long season despite being a short one.

Life After Lidstrom: Okay, so it wasn't responsible for everything that went wrong last night. But let's not kid ourselves, either: it played a role. There were a few cracks about Lidstrom finally winning a Hart Trophy and voters apologizing for ever depriving him of the Norris and for good reason. The Wings need to find their way without him, but last night, they looked completely lost.

Niklas Kronwall: The guy you most expect (and need) to step up, didn't. Two penalties brought on by failure to do his job…not encouraging.

Quincey: Before the game, FSD played footage of Kyle Quincey saying that while he was away, he wanted to prove he belonged on this team. Well, he didn't last night, unless this team is going to be terrible. In which case, he showed he'd fit right in.

But because I'm hoping that's not the case, I'm also going to hope that his complete inability to defend an unknown quantity like Vladimir Tarasenko boils down to a lack of time to prepare due to the rushed start to the season.

The Defense In General: Was terrible. Quincey stood out in a specific way and Kronwall failed to show the leadership the unit needs from him, but it wasn't just them. And it extended to the rest of the team's own-zone play. It of course remains to be seen whether the system will take off from here, with a little more practice, but this wasn't a good start.

Jimmy Howard: The best player on the ice, but that wasn't saying much. He wasn't great, even accounting for the fact that he was hung out to dry all night.

Eurotwins: Zero shots. Unacceptable.

Brunner: Had three shots, but still adjusting to the rink size. Understandable.

The Offense: Didn't crack double digits in shots until the third period and only reached 14 in the end. They had 44 shots in even their 10-3 drubbing at the hands of the Blues two years ago and that game was a real low point. I'm not saying 44 shots as ineffective as those two years ago would have been great, but this offense should be able to generate more than 14 against even a team as defensively systematic as the Blues.

Forwards on the Power Play: I guess Tom Renney has inherited Mike Babcock's predilection with forwards on the power play. I think Brunner's going to be an asset when he adjusts to the rink size, but those adjustments probably aren't going to add weight to his shot. When he did get set up for a blueline blast, it was always more of a blueline bloop.

And he wasn't very good when circumstances dictated he play a more defensive role back there. But I'll mark that down to the aforementioned rink adjustment process.

Samuelsson got some time back there too, with predictable results.

David Backes: Played like a wrecking ball and demolished Mursak into the bench boards (taking him out of the game with a shoulder injury). The Wings' wrecking ball, Jordin Tootoo, got a 10 minute misconduct for missing a hit. A new era.

Next: The Wings head to Columbus for a chance to redeem this performance. The Jackets are already off to a better start, with a win over Nashville under their belt. With Rick Nash no longer with the team, the Wings should be in good shape, right?