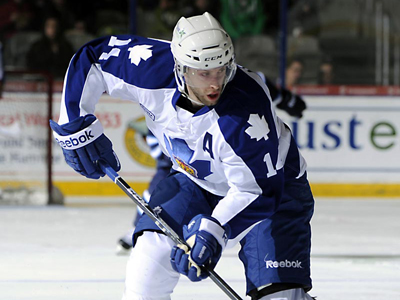 Edmonton - August 6, 2013 - With training camp just over five weeks away from kicking into gear, the Edmonton Oilers top six forwards appear to be set in stone.

Their plethora of young talent upfront will ultimately decide if this club has a shot at earning a playoff spot in 2013-14.

That being said, the team's third and fourth lines are yet again, a question mark heading into the coming season.

While the likes of Mike Brown, Boyd Gordon, Ryan Jones and Ryan Smyth are all but guaranteed some sort of role inside Edmonton's bottom six, the battle for the fourth line centre spot is up for grabs.

It looks as though it will start be a three horse race but will most likely come down to a choice between two players. Former Yale University captain Andrew Miller signed a one year deal with the Oilers, in hopes of showing he has the ability to compete at the pro level. Barring an all-world performance at camp, the twenty-four year old will get that opportunity in the AHL, as a member of the Oklahoma City Barons.

Leaving Dallas Eakins with a rather difficult decision. Does he go with the guy he knows and trusts in former Toronto Marlies centre Will Acton or does he lean towards taking the Oilers second round pick from the 2009 NHL Entry Draft in Anton Lander.

Looking at the Oilers current roster, opposing teams should expect to see a steady diet of Jordan Eberle, Sam Gagner, Taylor Hall, Ryan Nugent-Hopkins and Nail Yakupov on a nightly basis, with a far bit of Boyd Gordon mixed in for good measure. Should Ales Hemsky no longer be part of the equation when the season arrives, four of those remaining five spots could literally go to anyone on any given night. The one exception being that fourth line centre spot.

With both Shawn Horcoff and Eric Belanger having made their departures out of town, someone will have to step up and help Gordon in a support role for both Gagner and Nugent-Hopkins. Losing their two veteran centres created a massive hole on Edmonton's penalty kill and while it was partially addressed with the addition of the former Phoenix Coyotes specialist, the hole still exists.

As they are currently structured, the Oilers need a fourth line centre that can be effective while seeing limited minutes at even strength but can still be a solid contributor on the PK and be an absolute pain in the ass to play against. There is no doubt Lander can fill the first part of that equation but I am not sold on him being able to carry out the latter half. Whereas Acton appears to be built for that exact sort of role...at least according to his former Marlies head coach.

"He's like a bad smell that won't go away. He's never been the best player on any team he's ever played for, but he scratches and claws and finds a way."

That is a direct quote from the mouth of one Dallas Eakins, when describing the undrafted twenty-six year old. At 6'2" and 190 pounds, Acton is not a monster by any stretch of the imagination but in a lineup starving for size and guys who are willing to get their noses-dirty, the son of current Oilers associate coach Keith Acton, might be exactly wah the doctor ordered. Eakins has made it abundantly clear that he expects this team to be a lot harder to play against in 2013-14.

The rookie bench boss has said he wants players in his lineup that will "compete". That may be a word that some fans don't like hearing but it is one they had better get used to. As far as bottom six guys go, the offensive upside of this group will probably be limited at best and even worse, should #83 end up elsewhere. Meaning Eakins will need his third and fourth lines to provide him with something that doesn't always show up on the scoresheet.

In Gordon, the Oilers are getting a player who has proven track record at helping his team keep pucks out of their net, despite being handed defensive zone starts on a fairly frequent basis. Should Eakins find a pair of wingers who can compliment the former first round pick of the Washington Capitals, Edmonton could have themselves an effective third line for the coming season. What about line four? Can you say energy?

In my mind, it is pretty straight forward. If Eakins is looking to have a line that could go out and possibly change the momentum of game via a big hit or tough forecheck, bet on Acton being his man. Hell, if Ben Eager were to somehow work himself onto the roster, don't be surprised to see the trio of Eager, Acton and Brown lining up as the Oilers "energy line" from time to time.

Is that an ideal setup? Not really sure but if they are able to hold their own in limited ice-time and deliver the type of "energy" their coach is looking for, how is it a bad thing? It will all come down to roles for individual players and how they fit into Eakins overall plan.

I fully expect the rookie coach to play the living hell out of Taylor Hall and his running mates during the coming season. The days of "rolling the lines" are a thing of the past. While he will unquestionably call upon his fourth line to provide his team with that necessary spark , they will be used sparingly. In that sort of role, does it make more sense to use Will Acton or Anton Lander?

In my mind, you go with the better player. There is no question that Lander is that guy but will he be the right fit for Dallas Eakins? Tough to say but this could very well be the one real shot Will Acton gets at earning an NHL job...something which simply can't be overlooked. If he truly does play the game like "a bad smell that won't go away", it would be safe to assume he will do everything in his power to break camp as the Edmonton Oilers fourth line centre.