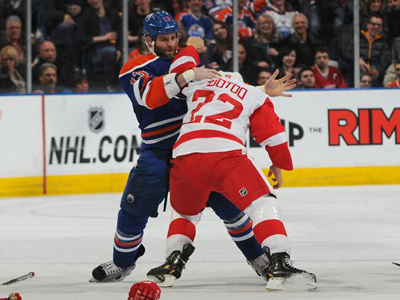 Edmonton - August 7, 2013 - Fans of the Edmonton Oilers are pretty much split down the middle when it comes to forward Mike Brown.

There are those who are all for his inclusion in the lineup on a nightly basis and those who feel he is nothing more than a "face-puncher" that can't really play the game.

While you could easily make an argument on behalf of either side, Brown is the sort of player that far too many get unnecessarily worked up over.

For those that fall on the "anti-Brown" side of the equation and tend to pick a part his game with a fine-toothed comb, at the end of the day, his 5-8 minutes of ice-time generally has no barring on whether or not the Oilers win or lose.

That responsibility ultimately sits on the shoulders of a teams best players. At the end of the day, Edmonton will go as far as the likes of Taylor Hall and company take them, not Brown.

While the former fifth round pick of the Vancouver Canucks may not be the most talented guy out there, he is far from a hindrance. It is not as though we are talking about Steve MacIntyre. Brown can definitely play. His skating ability allows him to not only engage physically but also keeps him from getting caught out of position on a regular basis and putting his team in a tough situation, unlike most of your so-called tough guys.

During his twenty-seven game audition in 2013, Brown did exactly what was expected of him. Whenever he got the chance to hit the ice, he kept his game as simple as possible and never tried being something that he's not. It was pretty straightforward. Be defensively responsible, skate hard, hit hard, drop the mitts when necessary and try and get under the opposition's skin whenever possible. That simple.

Could the argument be made that the former Toronto Maple Leaf saw far too much ice-time during his initial run in Oilers silks? Most definitely but the simple fact he was given over eight minutes of ice in fifteen of his twenty-seven appearance, says a lot about what the Oilers depth chart looked like in 2013. If used as a fourth line "energy" guy, Brown can be an effective NHL player...regardless of what some might say.

That being said, the "pro-Brown" crowd can sometimes take it a little too far in the other direction. For anyone to seriously suggest the twenty-eight year old should see the occasional shift inside the Oilers top nine, when the team "looks flat", is simply asinine. If this team's best players are unable to get themselves going on a nightly basis, is it really the job of the fourth line winger to give them a "spark"? Giving the bench some energy with a shift with your regular linemates is one thing but expecting a guy like Brown to jump in and take the spot of one of your better players, is a recipe for disaster.

As previously mentioned, Mike Brown is nothing more than a complimentary bottom six forward. It is not in his job description to be some sort of difference maker. That is not expectation of fourth liners in any other NHL city, so why on earth should it be any different in Edmonton? That's right, it shouldn't be.

In order for this team to finally start moving up the Western Conference standings, head coach Dallas Eakins must find a way for his players to start taking ownership of the expectations placed upon them. If this team struggles to put the puck in the net, it's not on the bottom six forwards. Sure they will need to chip in from time to time but the majority of the scoring should be coming from your scoring lines. Again, that simple.

Should Mike Brown come to training camp and show he is still willing to engage physically and "compete" at the level at which his new head coach is expecting from all his players, #13 will find himself in the Edmonton Oilers starting lineup more often than not. It may not be what some in Oil Country want to hear but at the moment, he helps fill a role on this club.

Not sure about all of you but I have had my fair share of watching this team continually trying to put square pegs into round holes.