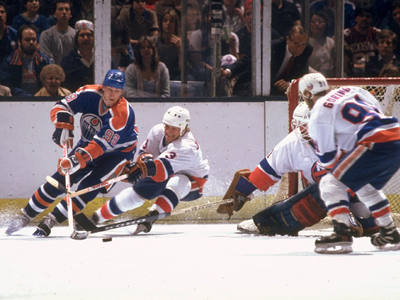 Edmonton - August 9, 2013 - Today marks the 25th anniversary of the day the Edmonton Oilers decided to trade Wayne Gretzky to the Los Angeles Kings.

To this day, most refer to it as a sale as opposed to trade but in the end, the distinction really doesn't matter.

Regardless of how or why, trading away the greatest player in the history of team sports, signalled the end of the line for one of the finest groups of players to have ever been assembled.

In hindsight, the deal should have really surprised no one but the late 1980's were simply a different time.

After watching the Oilers deal Paul Coffey during the 1987-88 season and hearing rumblings surrounding a possible Gretzky deal over the previous couple of years, all signs were pointing towards it eventually coming to fruition.

Difference being, rumours today compared to what they were twenty-five years ago, are a completely different animal. In today's social media environment, this sort of thing would never have occurred in the manner it did. In my mind, it actually makes stomaching the entire ordeal, all the more difficult. For that generation of hockey fan that was fortunate enough to watch this team from 1979-1988, it wasn't just about the guy wearing #99 but rather the powerhouse side that was the Edmonton Oilers.

While there is no questioning Gretzky's importance during their nine year run, the Oilers were simply stacked with star players at every turn. Edmonton's 1988 Cup winning roster had the likes of Glenn Anderson, Grant Fuhr, Gretzky, Mike Krushelnyski, Jari Kurri, Kevin Lowe, Craig MacTavish, Marty McSorly, Mark Messier, Craig Muni, Craig Simpson, Steve Smith and Esa Tikkanen all playing key roles and outside of the trio of Kurri, Lowe and MacTavish, they were twenty-seven years of age or younger. Basically, two thirds of that team were in the midst of what most consider to be the prime time years of a players career.

Since entering the National Hockey League in 1979-80, Edmonton had not only helped rewrite large chunks of the NHL record books but also took home four Stanley Cup Championships in five finals appearances. With their roster looking as powerful as it did, keeping them from winning a handful of more championships, seemed not only unlikely but frankly impossible. However, that all changed on August 9th, 1988.

The Oilers team dominance since entering the league had been unprecedented, while Gretzky's numbers were simply jaw dropping. In 696 career games, the kid from Brantford, Ontario posted a mind boggling 583 goals and 1.086 assists, for a total of 1,669 points. For good measure, he accumulated a staggering plus/minus total of +551 over that same stretch. At twenty-seven years old, #99 sat just 181 points shy of breaking Gordie Howe's all-time scoring record of 1,850....something he accomplished over 1,767 career games.

During his time in Orange and Blue, Gretzky posted four 200 point campaigns, eight straight 50+ goal seasons(four being 70+), won eight straight Hart Trophy's as the league MVP and another seven Art Ross Trophy's as the league's top scorer. He "chipped in" with another 252 points in only 120 post-season appearances, winning the Conn Smythe Trophy on two separate occasions. His numbers are simply endless and can't not be given their proper due in such a constricted area. That being said, they speak for themselves.

From an individual standpoint, no player has dominated their sport the way Gretzky did during his time in Oilers silks and few, if any, teams had ever accomplished so much over such a small window of time, since the infancy of the franchise. It appeared as though both had many a chapter to add to the story but were never given the opportunity to continue. Unfortunately for them and everyone involved in the game of hockey, be it directly or as a fan, Peter Pocklington's need to get out from under some serious financial issues cost everyone the opportunity of watching it unfold before our very eyes.

All these years later, I find it difficult to still hold a grudge against Mr. Pocklington, as he did what he felt was in his own best interest. As owner of the hockey club, it seems rather ridiculous for anyone to expect anything more than what they got out of a cash-strapped Pocklington. That doesn't mean any of us have to like how it all went down but at the end of the day, we most certainly have to accept it.

Edmonton would go on to win another Stanley Cup in 1990 and reach the Western Conference Finals in both 1991 and 1992. Those teams were nowhere near as good as years one through nine for the organization but they were still more than good enough to be in the conversation for the Cup on a yearly basis. It really is a shame, as the record books were likely robbed of chronicling what would have been the greatest single run in North American team sport history.