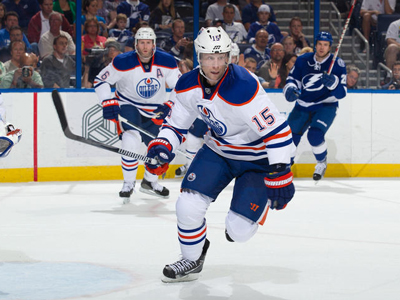 Edmonton - August 15, 2013 - The moment Craig MacTavish decided to bring aboard defencemen Anton Belov, Andrew Ference, Denis Grebeshkov and Philip Larsen as potential blueliners for the upcoming 2013-14 season, veteran rearguard Nick Schultz instantly became the man on the hot seat.

With the quartet of Ference, Jeff Petry, Justin Schultz and Ladislav Smid all but guaranteed roles inside the Oilers top two pairings, it will be spots five through seven that will be up for grabs during next month's training camp.

One would guess the former Minnesota Wild captain would be more than capable of earning one of those spots but there is no guarantee that is the road this organization wants to go down.

There is no question MacTavish wanted to upgrade his roster's ability to transition the puck up ice and the additions of Belov, Ference and Grebeshkov did exactly that.

The former Boston Bruins defender will give head coach Dallas Eakins that puck moving/defensively responsible bluleliner this team has been missing for ages. He may not be the top pairing guy most fans were hoping Edmonton would acquire but the former Pittsburgh Penguins draftee unquestionably upgrades the Oilers backend.

As far as the two Russian blueliners go, the possibility of them being used as the club's potential third pairing is quite real. Should that be the case, the chances of Schultz finding himself in a different NHL city, prior to the start of the 2013-14 campaign, would grow substantially. In order for MacT to even consider making such a move, Eakins would have to be completely sold on the Belov - Grebeshkov duo.

With Schultz entering the final year of what was a six year extension, he could be an attractive option for a team looking to add a veteran presence along their blueline. That being said, at a $3.5 million cap hit and the salary cap being an issue for almost every team in the league, moving him could be a little tricky. However, from an on ice standpoint, shipping off a steady stay at home defenceman, might be something this lineup can ill afford to stomach.

From the defensive side of the equation, the Oilers most responsible D men would be Ference, Nick Schultz and Smid. If you remove Schultz from the picture, that means one of two things. They either use one of Belov or Grebeshkov to take on his workload or put more onto the shoulders of one Jeff Petry. Despite heading into a contract year that will likely determine his long term viability in Edmonton, putting too much on the American's plate, could be a big mistake.

With Petry likely headed for another season of seeing major minutes at even strength, lightening his load on the penalty kill and trying to incorporate him as a regular contributor to the Oilers second power play unit, should become a priority for the twenty-five year old. Without some sort of safety net behind Ference and Smid, that could be next to impossible for the rookie head coach to accomplish.

The former second round pick has shown he can handle seeing regular duty five-on-five and special teams but he has generally been far less effective when taking on the status of Edmonton's minute eater on the backend. It is a role few National Hockey League defencemen can handle on a nightly basis and Petry has yet to prove he is one of those guys.

Leaving the Oilers GM in a bit of a predicament. Does he keep the grizzled vet in Schultz and use him in the bottom pairing or does he go different direction and continue to look towards building a more mobile blueline in the immediate future? Tough to say which way the organization would be leaning but you can bet on Nick Schultz not throwing in the towel.