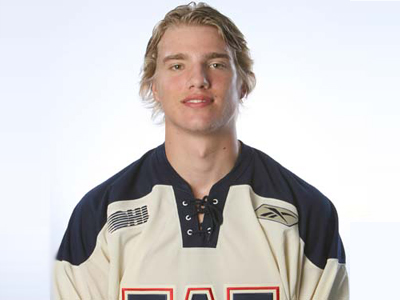 Windsor - August 23, 2013 - Mickey Renaud was loved.

By his family, his friends, his coaches, his teammates, and his city. Nowhere was that more evident than Sunday, August 18th, at the WFCU Centre.

The Windsor Spitfires Foundation held the inaugural "Mickey's Run", a 1K, 5K and 10K run in honour of the former Spits captain, who passed away suddenly on February 18, 2008. Mickey died because of a rare heart condition known as hypertrophic cardiomyopathy, but his legacy lives on, and he was fondly remembered last week at the run held in his name.

On a picture perfect summer day, a multitude of runners including current and former Spits converged on the WFCU Centre to raise funds for the Windsor Spitfires Foundation, in Mickey's honour. The hockey community is close knit, and everyone I approached was quite happy and willing to talk about him. I would like to thank Windsor Spitfires President and Head Coach Bob Boughner, General Manager Warren Rychel, Associate Coach Bob Jones, current Oshawa Generals Head Coach DJ Smith, Mickey's parents Mark & Jane Renaud, and former teammates Eric Wellwood, Harry Young, Adam Henrique, and Ryan Ellis for sharing their thoughts with me.

This column is the first of three that I would like to dedicate to Mickey's legacy.


Spitfires President & Head Coach Bob Boughner
TC: Bob, can you give me your thoughts on what Mickey meant to the community, and to the team?

BB: Mickey touched a lot of our lives, in the way he was so unselfish, the way he was always a great teammate, a guy who wanted to be a leader in every situation, a guy who spent a lot of time in our community. That's why we thought a community event like this, where kids and adults of all ages could come and participate in some physical activity, raise money to give back to the community -would be great . That's what Mickey was all about. It's nice to have his family here, it's nice to see a lot of fans here, and a lot people from the running community have come out, who never knew Mickey, but they're here to support his legacy.

TC: Mickey's parents, Mark and Jane, are here and they are still involved with the Spitfires. You've always made them feel like they are still a part of the team with events like "Mickey Night", can you talk a little about that?

BB: Every February 18th we have a night dedicated to Mickey, and I have promised them that as long as I'm here we'll always do that, to remember him and play in his honour. We have special uniforms that are dedicated to that night.

TC: And today, we have "Mickey's Run".

BB: Yes. We thought that doing something on behalf of the foundation, to raise money for the local community, and to have his parents and family involved and participate would be great.

TC: Any idea how much money today's event might raise for the foundation?

BB: Our goal is $20,000.00 and if we don't hit it we'll be very close, and that's great for our first year.


Spitfires General Manager Warren Rychel
TC: Warren, can you talk about Mickey and what he meant to the Spitfires, and the event today?

WR: Certainly, we've kept his memory with us, and what he means to not only the team and the fans, but to the new kids coming in. We've got a great turnout, and he means everything to us, he's on our uniform, he's on the ice, and this is another way of honouring him, and the funds that go into the Spitfires Foundation that will go to helping many things here in the city.

TC: Mark and Jane are here today, and they're still involved with the organization - that must mean a lot to you and the Spits.

WR: Yes, we're friends with Mark and Jane, and we see each other away from the rink, we see them at different events, whether it's a night out or a golf day. It's always good to see them, and they'll always be a part of the Spitfires.


Associate Coach Bob Jones
TC: Bob, you knew and coached Mickey, can you tell me what this day means?

BJ: He was a fantastic person, everybody knew him as a hockey player, but as a coach we get to know the kids as people as well, and he was a real special person, he touched a lot of people's hearts, on this team and in this community, and this is a great tribute to Mickey.


DJ Smith, Head Coach Oshawa Generals
TC: DJ, you were an assistant coach here in Windsor for many years, including the time that Mickey played here, can you talk about what he meant to the community and the Spitfires?

DJ: Well, the big thing is, being from Windsor, you could identify Mickey with ourselves - myself, Bob, Warren, being a part of the new wave of young hockey players. I had the honour to coach him his entire career. I skated with his dad, and I know Mark and Jane very well. Mickey was a key part of building The Windsor Spitfires, and his tragic loss brought our team together, and you could say that he was a major part of us winning. Everything he stood for, whether it was taking care of his teammates, on and off the ice, is something that is carried on, and it's great to have a chance to remember him .

TC out