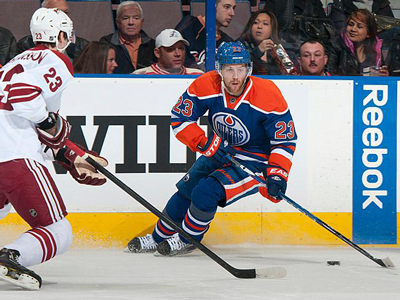 Edmonton - August 27, 2013 - There is no question Linus Omark is talented enough to play in the National Hockey League.

The issue surrounding the diminutive Swede has always been around his play away from the puck and especially in his own end of the rink.

After spending parts of two seasons yo-yoing back and forth between the Edmonton Oilers and Oklahoma City Barons from 2010-2012, Omark decided to head back to Europe and sign with Zug in Swiss League.

Not surprisingly, the twenty-six year old put together a solid campaign, registering 17 goals and 69 points in just 48 games.

Omark has never hid his desire of wanting to become an everyday NHL player and Tuesday's announcement of the fan favourite's decision to re-sign with the Edmonton Oilers, on a two-way one year deal, cemented that point even further.

While he may not be everyone's cup of tea, the guy can play and could help provide the Oilers with the organizational scoring depth they currently lack.

By accepting a two-way deal, he has shown the willingness to do whatever is necessary to earn a real shot at NHL duty. He truly believes, and rightfully so, that he doesn't belong in the American Hockey League. Having said that, this deal could see the tenacious little winger spend the entire 2013-14 campaign in the AHL.

If one thinks back to his last kick at the can, the Oilers #23 wanted no part of spending another minute as a member of the Barons. While he may not like or agree with it, Omark has finally come to the realization that another year of possibly jumping back and forth between the "show" and the "minors", is the situation he finds himself in.

Should he not make the big club out of camp, the most likely scenario, you can bet on the former fourth round pick seeing first line duty alongside Mark Arcobello in OKC. However, if he were to somehow win a spot in Edmonton, it could very well be on a third line with Boyd Gordon and Ales Hemsky.

In my mind, if Hemsky starts the year as a member of the Oilers, Omak's chances of sticking should actually increase. To be completely honest, the duo of Gordon and Hemsky scare the living hell out of me but adding a skilled player like Omark into that mix, changes things drastically.

Obviously, that trio would give rookie head coach Dallas Eakins the potential of running with three scoring lines but it would also remove the thought of Edmonton using a more traditional third line. Though to be fair, outside Gordon, does the current roster even have any of those "traditional" type players?

The honest answer to that question is clearly no.

Does today's announcement guarantee Linus Omark has any sort of future as a member of the Edmonton Oilers? Not in the least but I can't help but pull for the guy. He certainly has warts to his game but his ability to do things with the puck that very few can do, keeps me thinking that there is a player there.

For his sake, hopefully he can put it all together and finally earn himself a spot...be it in Edmonton or another NHL city.