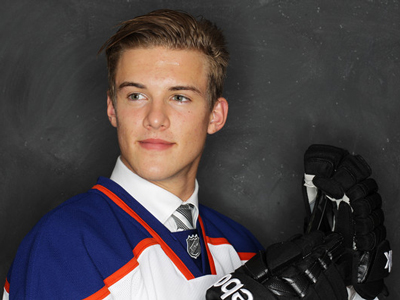 Edmonton - September 5, 2013 - Ever since being selected with the 19th pick of the 2011 NHL Entry Draft, Oscar Klefbom was anointed as the next great Edmonton Oilers defenceman.

While we have seen our fair share of talented blueliners come through town over the years, one could easily make the argument that current assistant coach Steve Smith was the last high end defenceman this organization actually drafted and developed.

To put that into perspective, the Oilers grabbed Smith in the sixth round, 111th overall, of the 1981 Draft.

Fortunately, since selecting the big Swede with their second pick of the first round in 2011, the organization has been able to secure two more top flight prospects to their backend in Justin Schultz and Darnell Nurse.

With that trio now in place, it looks as though the Oilers blueline could end up being one of this club's strengths for the next number of years. Funny how things can change so quickly.

With Schultz already part of the equation in Edmonton and Nurse likely two or three years away from being able to make the jump to the big the club, Klefbom will be "the guy" in the spotlight heading into both rookie camp and the Oilers regular training camp. Starting with tonight's opener against the Calgary Flames at the now annual Young Stars Classic in Penticton, the kid will be given every opportunity to prove he is ready for regular NHL duty come October 1st.

Having not played in a "real" game in almost a full calender year, Klefbom will likely need a little time to find his legs and feel comfortable with his surgically repaired shoulder. That said, those expecting him to go out and dominate rookie camp are likely to be some what disappointed. In my mind, it will be the simplicity of his game that wiil put him leaps and bounds ahead of everyone else. Fans should be focusing on his decision making abilities, both with and without the puck, and not on whether he produces points.

In all honesty, I am expecting the youngster to be far more impressive during the Oilers full camp than at any point during his time with his fellow rookies. With better and/or more skilled players surrounding him, you can bet on his skill set being put to far better use. Be it transitioning the puck up ice to the likes of Taylor Hall or playing a positionally sound and simple game in his own end, the kid will likely get better with each and every outing.

It certainly won't be easy but the twenty year old seems determined to make it nearly impossible for head coach Dallas Eakins and general manager Craig MacTavish to not keep him around to start the 2013-14 campaign. With Anton Belov, Andrew Ference, Denis Grebeshkov, Philip Larsen, Jeff Petry, Corey Potter, Justin Schultz, Nick Schultz and Ladislav Smid already in the mix, Klefbom will certainly not have anything handed to him. Nor should he.

However, should he show he truly belongs in the National Hockey League and is better fit than many of the aforementioned names, how do Eakins and MacT not keep him in Edmonton? Perhaps his presence alone, will push the other D men in camp to be that much better. For their sakes, that had better be the case because it looks as though Oscar Klefbom has one thing on his mind and that is making the Edmonton Oilers from Day One.