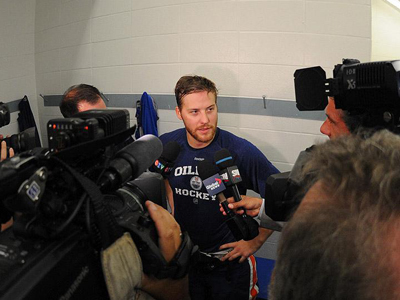 Edmonton - September 14, 2013 - The Edmonton Oilers kickoff their eight game pre-season schedule on Saturday night, with a pair of split squad games against the Calgary Flames.

Head coach Dallas Eakins has wasted little time in seeing how Taylor Hall adjusts to playing centre, slotting the Oilers leading scorer between Ales Hemsky and Ryan Smyth for tonight's opener at Rexall Place.

However, the most intriguing combos on the night will see Linus Omark, Mark Arcobello and Nail Yakupov lineup together in Edmonton, while the trio of Ryan Hamilton, Sam Gagner and Jordan Eberle will lead the charge down south

For those wondering if the diminutive Swede was going to be given a shot at playing with other skilled players in his return to the Alberta capital, the answer is obvious.

Getting the chance to play with other offensively minded players has got to be music to Omark's ears. While he may not have received such an opportunity in previous years, it appears as though Eakins wants to see what he can do in a role he is best suited for. What a novel concept.

I have to say, the thought of seeing Omark with a true sniper at his disposal, does have me pretty interested. Clearly this coaching staff wants to see what he can do and it will be up to him to produce. Same goes for Arcobello, who has a real shot at earning a possible top six role, should Ryan Nugent-Hopkins need to start the year on the sideline.

While Eakins and company plan on taking a long look at Hall playing down the middle, Arcobello could make it a moot point. In my mind, RNH won't be out long, making the need for a top six centre a short term fix. Unlike Hall, the Barons 2012-13 leading scorer is already familiar with playing the position and knows the ins and outs. Does that automatically make him a fit? Not at all but if he shows well...it is hard to argue against it.

Unless the plan is to run with the quartet of Hall, Nugent-Hopkins, Sam Gagner and Boyd Gordon as their centres for the 2013-14 campaign, giving Arcobello a look may not be such a bad idea.

Devan Dubnyk and Olivier Roy are scheduled to share the net for the night at Rexall, while the backend will feature the pairings of Brandon Davidson and Justin Schultz, Darnell Nurse and Andrew Ference, David Musil and Denis Grebeshkov

With the Hall and Arcobello lines expected to do much of the heavy lifting upfront, the combination of Jesse Joensuu, Anton Lander and Marco Roy will make up the Oilers third line, while the trio of Kyle Platzer, Ryan Martindale and Mike Brown will take on fourth line duties.

As far as the other half of the split squad goes, here are the projected combinations for their tilt at the Scoatiabank Saddledome in Calgary.

Goaltenders
Jason LaBarbera
Richard Bachman

Forwards
Jordan Eberle - Sam Gagner - Ryan Hamilton
David Perron - Boyd Gordon - Ryan Jones
Ben Eager - Will Acton - Tyler Pitlick
Greg Chase - Travis Ewanyk - Tyler Bilcke

Defence
Ladislav Smid - Jeff Petry
Nick Schultz - Taylor Fedun
Martin Marincin - Philip Larsen

While this lineup may not have a "Taylor Hall at centre" or an "Omark - Yakupov duo" for fans to set their sights on, one name certainly stands out. With the Oilers spreading their talent out over both squads and the coaching staff wanting to take a closer look at newcomers David Perron and Boyd Gordon as a potential duo, former Toronto Marlies forward Ryan Hamilton will be given a shot at seeing top line duty.

Hamilton is coming off a 30 goal campaign in the American Hockey League and much like Linus Omark, had to be wondering if he would actually be given an opportunity to play with some of Edmonton's high end talent. Again, question answered. With both Eberle and Gagner at his disposal, now would be as good time as any, for the twenty-eight year old to start making an impression.