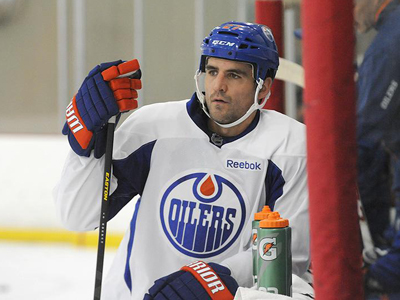 Edmonton - September 22, 2013 - Apparently Sam Gagner and the NHL preseason don't mix.

For the second time in three years, Gagner has had the misfortune of being hit with the injury bug during the Oilers exhibition schedule.

Prior to the start of the 2011-12 campaign, it was a high-ankle sprain he suffered against the Calgary Flames that kept him out of action until late-October and hampered him until the end of the 2011 calendar year.

On Saturday night the injury bug would rear its ugly head yet again, this one coming courtesy of a careless high-stick from Vancouver Canucks forward Zack Kassian.

While the big winger was in no way shape or form trying to injure the Oilers centre, he was well aware of where his stick was heading after the two bumped along the sideboards.

The incident has left Gagner minus a handful of teeth and with a broken jaw, while Kassian is facing a possible lengthy suspension from the NHL. From Edmonton's standpoint, the injury couldn't have come at a worse time. With Ryan Nugent-Hopkins still recovering from off-season shoulder surgery and likely to miss the first handful of games to start the year, losing #89 will prove rather challenging for this club to overcome.

With Taylor Hall already playing centre during training camp, to help offset the loss of Nugent-Hopkins, head coach Dallas Eakins is now staring at a depth centre chart that features Hall, Boyd Gordon and the trio of Will Acton, Mark Arcobello and Anton Lander. Obviously, it's not the scenario Gagner nor the organization wanted heading into a brand new season but the situation is what it is.

Leaving Eakins and Craig MacTavish the difficult task of finding another centre that can take a regular shift at the NHL level and one capable of doing some heavy lifting with Hall in the middle. I do not doubt MacTavish is doing his due diligence and seeing if there is some sort of move to be made but in all likelihood, such a move doesn't exist.

Meaning he will have to look in house for a suitable replacement. Both Jordan Eberle and David Perron would be capable of playing centre but considering Edmonton is already using their best offensive weapon out of position, complicating matters further doesn't appear to be the way to go.

While many still seem to think RNH won't be ready to go until November 1st, I stand by my original stance of mid-October being the latest we see #93 back in Oilers silks. With that being the case, could a player like Arcobello slide into the second line centre hole for a couple of weeks to fill the void? Possibly but the more likely candidate appears to be the former Phoenix Coyotes defensive specialist.

Coach Eakins has already shown a liking to using Perron alongside Gordon during much of the preseason, with the results being all positive. Add to that, the fact the former Toronto Marlies bench boss appears to be leaning towards starting the season with three potential scoring lines and the move starts to make even more sense.

For arguments sake, let us say the Oilers go with the following lines to start the year:

Eberle - Hall - Hemsky
Perron - Gordon - Yakupov
Hamilton - Arcobello/Lander - Joensuu
Smyth - Acton - Jones
Extras:Brown, Eager, Omark

We could argue until we are blue in the face as to who the bottom six wingers will be but it's safe to say the four spots will come from the group of Mike Brown, Ben Eager, Ryan Hamilton, Jesse Joensuu, Ryan Jones, Linus Omark and Ryan Smyth. With that said, sliding Gordon up the depth chart should at least give Edmonton a fighting chance to tread water and "compete", until Nugent-Hopkins is deemed fit to return to action.

Not an ideal setup by any stretch of the imagination but both lines feature players capable of putting the puck in the net, while still being somewhat responsible in their own end of the rink. While Yakupov is likely the least defensively sound of the group, the kid has already shown signs of marked improvement over last season.

Last week I wrote a piece focusing on the probability of Eakins leaning heavily on a potential trio of Gordon, Hemsky and Perron in 2013-14. Gagner's injury makes the need for all three to log major minutes even more imperative...albeit on different lines. If the Oilers bottom six can simply hold their own during the first couple of weeks of October, Edmonton should be able to hold their own.

Imagine if some of these guys developed chemistry, be it as a line or in pairs, that wasn't already present inside their top six. The addition of both Sam Gagner and Ryan Nugent-Hopkins into that sort of equation, might just make this team a force to be reckoned with. Then again, the whole thing might just blow up in their collective faces.

Should make for a interesting couple of weeks. Might be a good time for one Devan Dubnyk to come out the gates in mid-season form.