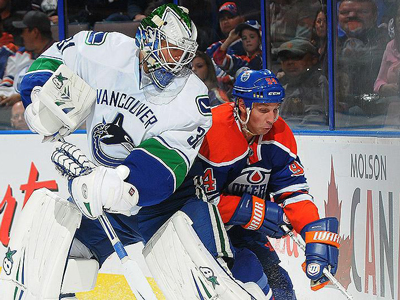 Edmonton - September 27, 2013 - Ryan Smyth is arguably the most popular post-dynasty player to have played for the Edmonton Oilers.

While he has managed to put together a pretty impressive career over his 1,198 NHL outings, Smyth is nowhere near the player he was during the early to mid 2000's.

At thirty-seven years of age and coming off what has easily been the worst 80 game stretch of his career, one would think handing the wily veteran anything more than a limited role for the coming 2013-14 season as a major mistake.

Smyth remains a solid option as a net presence on the man advantage and a decent secondary choice as a penalty killer but his days of being an effective top six forward are long gone.

And yet here we sit, less than a week away from the start of the regular season, with all signs pointing towards Dallas Eakins using #94 on the Oilers top line with Ales Hemsky and Taylor Hall.

While injuries to Sam Gagner and Ryan Nugent-Hopkins have unquestionably thrown a wrench into his original plans, the fact the rookie bench boss is even toying with such an idea is simply absurd.

While fans across Oil Country rejoice in the apparent resurgence of the fan favourite's game, let's not get out of hand here. Smyth has basically played the entire exhibition schedule on a line with Hall and Hemsky and for the most part, looked decent in doing so. That said, we are talking about preseason hockey here and to be completely honest, the Oilers have yet to face anything resembling a half decent lineup.

Since returning to Edmonton prior to the 2011-12 season, the biggest challenge facing the former sixth overall pick is a lack of foot speed. With all due respect to Mr. Smyth, that isn't going to be changing...no matter how much he and his loyal followers hope it would. Placing him with two guys who can fly will only make things worse and put the player in a situation to do nothing other than struggle mightily.

If we are talking about using the former four-time thirty goal man as an occasional fill in one of the top two lines, I am all for it. However, if the plan revolves around Smytty seeing top line minutes when the likes of Jordan Eberle, David Perron and Nail Yakupov are all available options, we have a problem..

Trying to build a balanced attack over three lines is all well and good but trying to do so when you don't have all your horses in the stable, borders on moronic. If both Gagner and Nugent-Hopkins were healthy it would be a different story and far easier to spread the wealth.

Word out of Oklahoma City had Edmonton's top three lines looking like this during Thursday's practice.

Smyth - Hall - Hemsky
Perron - Gordon - Yakupov
Joensuu - Arcobello - Eberle


Not sure about all of you but those lines have the look of ones that will struggle to score goals against most NHL lineups. Eakins will likely lean heavily on Hall's line, meaning more minutes at even strength, which is something Smyth has struggled with for the better part of two seasons. Would not swapping Eberle with Smyth be the logical way to go?

Obviously one of Eberle or Hemsky would have to play on their off wing but once you consider the amount of ice that trio will see, my sense is neither would complain with having to make the shift. It would potentially give them two scoring lines that "should" be able to take care of business at both ends of the ice. Is it ideal? Not at all but until they get some healthy bodies back, it would be their best option.

Perhaps the mindset of sprinkling their talent over the top three lines is to lighten the load on the fourth line. Fair enough but if that's the case, maybe they should not have waived a Ryan Jones or sent down a Tyler Pitlick when they did. While no one expects Steve MacIntyre to see much in the way of ice-time when he dresses, if Mike Brown, Ben Eager and/or Ryan Hamilton can't handle 8-10 minutes of action a night, why are they here?

Regardless of what you think of Jones as player, he would rarely if ever cost the club during his 10-12 minutes. Was he one of those guys that general manager Craig MacTavish referred to as being a "non-factor" on far too many occasions? He certainly was but being a non-factor would be an upgrade over a player who can't even be trusted to be out on the ice.

Sacrificing skill from your top two lines for the sake of your bottom six forwards is nothing more than a recipe for disaster. Employing Ryan Smyth as anything more than a third or fourth line winger, who receives regular minutes on the Oilers special teams, would be playing with fire. We have seen this song and dance during stretches of each of the last two seasons and both times, the results have been less than favourable.

Is not the definition of insanity doing the same thing over and over again and expecting different results? Albert Einstein sure thought so but apparently there are those within the Oilers organization that are not yet convinced. Let's hope it doesn't take them long to come to their senses and recognize what has already become painfully obvious to those who are willing to accept the situation for what it is.