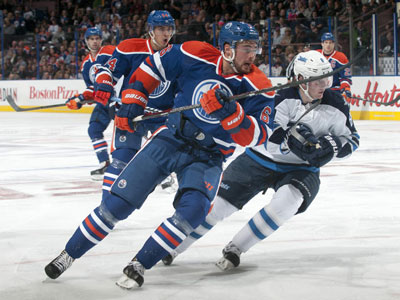 Edmonton - October 2, 2013 - It wasn't supposed to be like this.

Despite being without the services of both Sam Gagner and Ryan Nugent-Hopkins, the Edmonton Oilers were expecting to open their 2013-14 season with a win over the Winnipeg Jets on Tuesday night.

Thirty minutes into the opener, everything was going according to plan.

Edmonton had themselves a 4-2 lead and goals from newcomers Luke Gadzic, Boyd Gordon and Joe Joensuu. If not for a weak goals against on Devan Dubnyk, who pretty much fought the puck all night long, the Oilers should have had themselves at least a three, if not four, goal cushion.

Instead a late second period goal from Michael Frolik cut the lead down to one and gave the Jets life heading into period three. To the Oilers credit, they came out with a solid third period and out shot Winnipeg to the tune of 14-6. Unfortunately, their netminder's struggles would continue and ultimately come back to cost them, as they dropped a 5-4 decision to the visiting Winnipeg Jets.

While Taylor Hall played a ton in his debut at centre ice, leading all skaters with 23:30 minutes of ice-time, the kid was a turnover machine, repeatedly coughing up the. puck. His third period hiccup ultimately led to the Jets tying goal, the first of Jacob Trouba's career, a 40 foot blast should never find its way behind a National Hockey League goalie.

Frolik would complete the comeback, potting his second of the night with just over five minutes to go and just like that, the season opener was ruined. In what felt like nothing more than a blink-of-an-eye, a game the Edmonton Oilers had complete control of, was literally wasted away.

Despite the loss, there were some positives to take away from the season curtain raiser. Joensuu was simply fantastic in his fourteen minutes of ice and by far and away, was the Oilers best player. The talented Finn not only scored his first goal in Oilers silks but was a physical force from the moment he hit the ice.

Joensuu was in the middle of almost every scrum and made a point of paying a visit to any Jets player who decided they needed to take a run at any of Edmonton's smaller skilled forwards. As far as debuts go, not sure the player or coaching staff could have really asked for anything more. It was a near perfect outing for the former New York Islanders second round pick.

As far as Gadzic goes, the kid sure didn't waste any time in making a first impression, scoring his first NHL goal, on his first NHL shot, during his first shift in the National Hockey League. The twenty-four year old's shot on goal deflected off the stick of Winnipeg's Jim Slater and found its way past netminder Ondrej Pavelec, to give Edmonton the early lead they were hoping for.

He would drop the mitts late in period two, taking on Winnipeg's Chris Thorburn in what was a fairly spirited tilt, leaving him with just needing an assist to complete a Gordie Howe Hat-Trick. That assist never did materialize but it certainly did not lessen the impact of his overall game. The former sixth round pick of the Dallas Stars had as productive a 4:59 of ice time that one could expect from a fourth line energy guy.

Regrettably, none of that mattered in the end because Dubnyk was simply that brutal. Edmonton out shot the Jets 38-28 on the night and had the far better chances but couldn't count on their #1 netminder to shut the door when it mattered most. While he looked shaky throughout much of the opening forty minutes, Dubnyk could have erased all of that with a solid third period.

Instead, he proceeded to give up a bad goal at the worst possible moment. Trouba's game tying goal came with just under nine minutes to go and gave the Jets all the momentum going forward. Despite having carried the play for almost the entire third period, in a matter of the seconds, the Oilers were sent reeling and were never able to recover.

Oil Notes
For reasons known only to Dallas Eakins and his coaching staff, Ryan Smyth found himself on the Oilers top line with Hall and Ales Hemsky in the opener and not surprisingly, struggled for much of the night. While he did manage to pick up an assist on Hemsky's goal, #94 looked as though he was skating in quicksand. At thirty-seven years of age and coming off the worst 80 game stretch of his career, one has to wonder why he is being used in the role he is. In my mind, playing Smyth almost eighteen minutes is not only inexcusable but just flat out dumb.