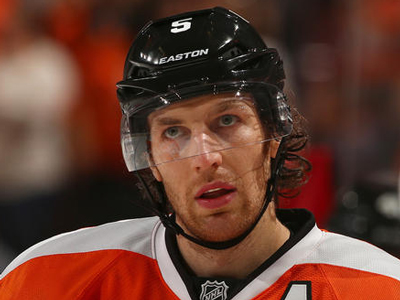 Edmonton - October 9, 2013 - According to TSN's Bob McKenzie, the Edmonton Oilers may be interested in adding a top defenceman to their backend and hinted at Toronto Maple Leafs blueliner Jake Gardiner as a possible target.

With all due respect to Mr.McKenzie and the Leafs talented youngster, when exactly did Gardiner start being referred to as a "top defenceman"?

At twenty-three years of age and having yet to secure a regular spot on Toronto's backend, he is nothing more than a work in progress.

Unless you haven't noticed, Edmonton already has one of those guys on their roster, in Justin Schultz but he already plays a key role for the Oilers.

While Schultz and Gardiner are good friends away from the rink and former college teammates at the University Of Wisconsin, the seventeenth overall pick in the 2008 NHL Entry Draft would not address what currently ills the Oilers D.

Long-term, Gardiner would be a great fit but in the here and now, there is no guarantee he would even crack Edmonton's top four. If general manager Craig MacTavish were seriously looking at improving his club's blueline, a player in the mold of say Dion Phaneuf would make far more sense as a potential target.

Phaneuf can do it all. He is a legitimate top pairing NHL defenceman that logs major minutes and plays in all situations. The former Calgary Flame is in the prime years of his career and staring at the real possibility of becoming an unrestricted free agent next summer. With that said, going after Phaneuf would likely not be high on MacT's to-do-list and nor should it be.

The Oilers new GM showed serious interest in Philadelphia Flyers rearguard Braydon Coburn at this summer's draft and has likely had a few conversations with Paul Holmgren since. The veteran blueliner would be a much better fit, both from an on ice need and financial standpoint, than a kid like Gardiner. At a $4.5 million cap hit and with an additional two years left on his current deal, the Saskatoon native remains an ideal target.

With the Flyers getting off to a less than stellar start, just go ask Peter Laviolette, perhaps Holmgren considers making a move to help spark his squad and get things going in the right direction. Then again, maybe he does nothing and allows new bench boss Craig Berube a shot at righting the ship with the guys he already has in house.

It could go either way but it will ultimately come down to whatever the asking price would be. From an Oilers perspective, there is no rush to make any sort of move but if/when that time comes, Craig MacTavish will need to ensure he brings in the right guy. This organization can ill afford to make a bad move via trade.

He took a chance this summer in moving Magnus Paajarvi to St. Louis Blues and David Perron appears to be the real deal. Making a similar type move to upgrade the backend wouldn't be such a bad idea. That said, if Jake Gardiner would be the piece coming back in that sort of deal, it would be hard to view it as anything more than a sideways move for the organization.