| | |
| --- | --- |
| | |
Habs do Dubnyk and the Oilers a favour in starting Budaj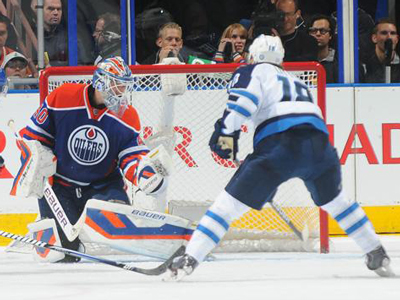 Edmonton - October 10, 2013 - After struggling through the Edmonton Oilers opening two games, Devan Dubnyk was rightly given a seat at the end of the bench during Monday night's game against the New Jersey Devils.

While Jason LaBarbera picked up the "W" against the Devils, he looked just as shaky as Dubnyk had during his first two appearances of the season.

With that said, Dallas Eakins wasted little time in naming his starter for tonight's game against the Montreal Canadiens.

Despite posting some ugly looking numbers against the Winnipeg Jets and Vancouver Canucks, there was no question as to who would be starting against the Habs.

For better or worse, this is Dubnyk's gig but tonight would be the perfect time for him to rebound from his slow start.

With Montreal dropping a 3-2 decision to the Calgary Flames on Wednesday night, one would think the Canadiens will be in a bit of a snarly mood for tonight's tilt at Rexall Place. That said, it sounds like the Oilers will not only have the advantage of facing a tired squad but one that will also be minus its starting goaltender.

With the Habs scheduled to play three games in four nights and a date with the Canucks next on the bill, it looks as though Michel Therrien will turn to backup Peter Budaj to hold the Oilers in check. While Budaj did put together a rather nice season in 2013, he is no Carey Price.

Advantage Oilers and Dubnyk.

Goaltenders will rarely if ever admit to wanting to outduel their counterpart at the other end of the rink but who is kidding who here. Normally you could count on a guy like Dubnyk trying his best to outshine a Carey Price but with the Oilers #1 struggling to find his game, that sort of situation could actually have a negative effect.

The best thing for Dubnyk to do is to simply focus on his own game and not worry about who is playing goal for the opposition. Unfortunately that is usually easier said than done. With Budaj getting the call for Montreal, Dubnyk need not worry about such things. If he can't go toe-to-toe and match saves with a backup goalie, this poor start could turn into a problem.

With the Edmonton Oilers set to embark on a tough six game road trip, getting two points out of the Montreal Canadiens on home-ice and their starting goaltender back on track, is priority number one. All signs are pointing towards Devan Dubnyk doing exactly that. Now he just has to go out and do it.


3,468 Stories & Growing Daily...

To date HometownHockey.ca has posted a total of 3,468 hockey stories!

Be sure to check out our Columnists archives or, why not Contribute a Story yourself!



HometownHockey.ca

offers a very generous revenue sharing opportunity for our Columnists. If you are interested in learning more details about writing for us, please send us an

EMAIL.
Click on Photo or Story Title for more info
HometownHockey.ca News Database Last Updated:
Apr. 28, 2022 @ 11:52 AM EDT