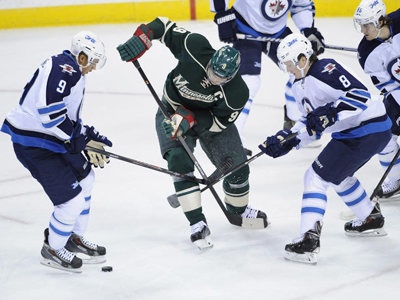 Edmonton - October 11, 2013 - There are several truths about hockey.

One, if you win a high percentage of face-offs, it generally isn't discussed.

Two, if you lose a high percentage, it is dismissed as meaningless by most hockey people.

So what happens when your #1 center wins 5% of his draws and your #3 center wins 15%? Answer - you chase the puck all night.

Not helping matters was Jim Slater posting a 36% number, in fact the only center that kept his head above water was rookie Mark Scheifele who ended the night winning 60% of his face-offs, a great total.

How bad was it? Olli Jokinen went 2 for 13. 0 for 3 in the defensive zone which is the most damning and 1 for 6 in the offensive zone. Bryan Little was worse, 1 for 20. His lone win came in the D zone where he was 1 for 7, and was 0 for 6 in Minnesota's end. This isn't new, and in fact is a trend that is getting worse by the game. So far this season the Jets have gone 45% against Edmonton, 37% against, LA, 41% against Anaheim, and a disgusting 26% last night against Minnesota.

I've seen basic and advance stats that can both support the importance of draws as well as dismiss it. Neutral zone draws to me are irrelevant. Its the draws in your own zone, especially short handed that are deadly in my opinion. Against a team like Minnesota, you are not going to have a fun night if they always have the puck.

For the most part, the Jets are off to a decent start this season with several positive signs. Cleaning up face-offs is an area that needs to be addressed, quickly. The good news is that minor corrections and practise can usually have a positive and immediate effect. It will be something to watch tonight against Dallas.