Jets: The importance of division games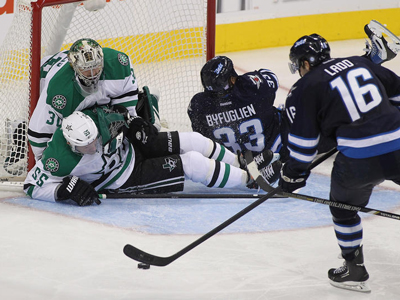 Edmonton - October 12, 2013 - The Jets faced a division opponent for the second time this season last night and came away from the game with a 4-1 defeat versus Dallas.

Having lost to Minnesota the previous evening, their record now stands at 0 for 2 in division games. This is an early season trend that cannot continue.

In 2011-12, the last full season played. Onl6 6 of the 14 none playoff teams had a winning record in their division and still missed the playoffs. The majority of those teams were a game or two above the .500 mark.

The best two in-division play teams were Calgary and Winnipeg, both who feasted on some poor teams. More damning, only team had a losing record in their division that season and still made the playoffs, that team being Ottawa.

To make matters even worse, of the new teams the Jets join in the newly formed Central Division, only two teams, Nashville and Colorado have had a poor in-division record. For the past two seasons, every team other has been .500 or better. Chicago as you can imagine has been very dominant, as has St Louis. Phoenix and Dallas have been surprisingly strong as well over the two year span.

So what does this mean? Well, all losses hurt obviously, but when you lose the proverbial "4 point' game you are really hurting your playoff chances, especially this year. With the focus being more on division standings rather than conference for playoff seeding, it will be vital to take care of business against the other Central teams. Starting 0-2 is not the end of the world, but if this doesn't improve soon they are putting themselves directly behind the 8 ball.

One positive improvement to be taken from last night was a much better result in the face-off circle. Of course it didn't translate into a win but both Bryan Little and Olli Jokinen improved dramatically over the previous couple of games. Ondrej Pavelec started his 5th consecutive game so its anyone's guess as to when Al Montoya will get his first start. Kari Lehtonen was facing his former organization last night for the second time and couldn't complete the game. Injury issues were one of the main reasons why Atlanta soured on Lehtonen and gave the crease to Pavelec.

The New Jersey Devils come into Manitoba Sunday evening continuing a long road trip though Canada. They will be in ill sprits having lost games in Calgary, Vancouver, and Edmonton already. The game can be seen on TSN Jets.


3,453 Stories & Growing Daily...

To date HometownHockey.ca has posted a total of 3,453 hockey stories!

Be sure to check out our Columnists archives or, why not Contribute a Story yourself!



HometownHockey.ca

offers a very generous revenue sharing opportunity for our Columnists. If you are interested in learning more details about writing for us, please send us an

EMAIL.
Click on Photo or Story Title for more info
HometownHockey.ca News Database Last Updated:
Aug. 10, 2020 @ 8:14 AM EDT