| | |
| --- | --- |
| | |
Oilers would be wise to keep Dubnyk out for one more night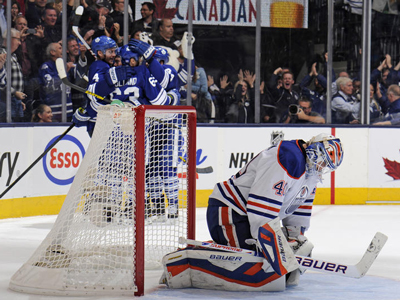 Edmonton - October 15, 2013 - With a stat line that currently sits at 0-3-1 with a 5.43 GAA and .829 SV% one would think facing Sidney Crosby and the Pittsburgh Penguins wouldn't be high on Devan Dubnyk's wishlist.

While head coach Dallas Eakins hasn't named his starting netminder for tonight's tilt with the Metropolitan Division leaders, one would think he would be leaning towards going back to Jason LaBarbera.

If for no other reason, it should allow his #1 netminder the opportunity to hit that so-called "reset button" and start fresh on Thursday night against the New York Islanders.

To say Dubnyk has struggled to the start the season would be putting it nicely. This was supposed be the year the former first round pick was going to show what he was made of and if he was truly capable of being the starting goaltender of a playoff team.

Just four games into that make or break campaign and Dubnyk is on the verge of drowning before it even really got under way. With the Oilers having no other real option to turn to, it is up to Mr. Eakins and his coaching staff to ensure they don't lose their starting goaltender before the team reaches the ten game mark.

Personally, I have always had my concerns with Dubnyk's tendency to allow weak goals at the worst possible moment but never have I questioned his abilities as an NHL goaltender. He has proven to be a mid-range league starter but has been downright awful over the opening two weeks of the 2013-14 season.

He sounded like a defeated guy in his post-game interview following Saturday night's loss to the Toronto Maple Leafs. Rumour has it that Dubnyk sat in stall following the game, in full equipment, just sitting and trying to figure out what went wrong. His confidence is obviously shot and would love nothing more than to find his game. That said, the reality of the situation is what it is.

With the Oilers dropping their third straight game last night in Washington and the possibility of facing the Penguins with Dubnyk not being anywhere near his best, going to LaBarbera for one more start appears to be a no-brainer of a decision..Could Devan bounce back with a big game against the Pens? Possibly but going on what we have seen from him in his first four appearances, the safe bet would be on Pittsburgh lightening him up.

While LaBarbera hasn't been much better, as he has also fought the puck for much of the season, the whole point of having a veteran backup is for situations like these. Be it because of injury or your #1 guy going through a tough stretch, the whole purpose of the backup goaltender is to fill in when necessary.

At this moment, it is very necessary and given the potential downside of having Dubnyk being torched by one of the league's most talented lineups, it might just be the rookie coach's only real option. At the end of the night, LaBarbera will most likely have taken one for the team but it could quite possibly turnout to be a sacrifice that actually saves the Edmonton Oilers season.


3,468 Stories & Growing Daily...

To date HometownHockey.ca has posted a total of 3,468 hockey stories!

Be sure to check out our Columnists archives or, why not Contribute a Story yourself!



HometownHockey.ca

offers a very generous revenue sharing opportunity for our Columnists. If you are interested in learning more details about writing for us, please send us an

EMAIL.
Click on Photo or Story Title for more info
HometownHockey.ca News Database Last Updated:
Apr. 28, 2022 @ 11:52 AM EDT