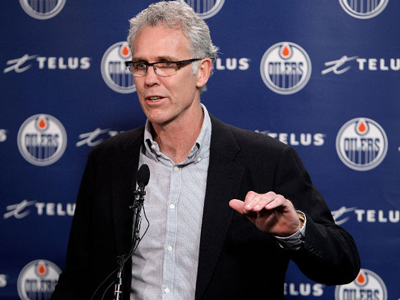 Edmonton - October 22, 2013 - It has been a fairly busy couple of days for the Edmonton Oilers organization.

From the moment Taylor Hall left the ice during the second period of Saturday afternoon's 3-1 victory against the Ottawa Senators, general manager Craig MacTavish and head coach Dallas Eakins have been working hard at restructuring the Oilers current lineup.

After sending Hall back to Edmonton to get his knee checked out, the Oilers announced they had recalled forward Tyler Pitlick on Sunday afternoon.

It will definitely be a neat experience for Pitlick to make his NHL debut against the Habs in Montreal but from a roster standpoint, it seems like a pretty simple one for one swap.

Unfortunately when it comes to the Orange and Blue, things are rarely if ever simple.

Jordan Eberle was mysteriously absent from Sunday's practice but according to the Oilers rookie bench boss, it was nothing more than a "maintenance day" for the talented #14. However come Monday morning, Eberle was absent yet again and went from a "maintenance day" to now being refereed to as being "day-to-day".

To add insult to injury, Ryan Smyth was also missing from Monday's practice and like Hall, was sent back home to deal with whatever was ailing the veteran winger. In the blink of an eye, the Oilers have lost two regulars in their top nine with the real possibility of a third joining them on the sidelines for Tuesday night's tilt at the Bell Centre.

With both Pitlick and Ryan Jones set to get into the lineup against the Habs, Edmonton would still be sitting with just eleven healthy forwards. Eakins did use Sam Gagner and Denis Grebeshkov as forwards during Monday's practice but Gagner is still not ready to return from a broken jaw and using Grebeshkov as a winger would seem to make little to no sense.

Things would take another twist late last night, as MacTavish sent tough guy Mike Brown to the San Jose Sharks for a 4th round pick in the 2014 NHL Entry Draft. With Luke Gazdic already in town, Ben Eager in Oklahoma City waiting for a chance to prove his worth and Steve MacIntyre in the wings on the IR list, having four guys around to essentially be used in one role seemed rather redundant.

With Brown's departure to San Jose, Eakins will have just eleven available bodies upfront, should Eberle be deemed ready to go. While nothing was made official last night, one would guess Eager would be making his way to Montreal in short order.

Regardless of what they do against the Habs on Tuesday night, Craig MacTavish could be in for a hectic couple of days. With Gagner still a week or two away from being able to make his season debut, the key to the Oilers immediate future will ride on the severity of Taylor Hall's knee injury.

Best case scenario would likely see the former first overall pick being out of action for a couple of weeks.

Should the news not be so positive when it come to Hall's possible return date, MacT will need to decide what to do next. This team is not structured to survive a prolonged absence from the best player and if they have any hopes of becoming a playoff team, it will need to be addressed and rather quickly.

Had Dallas Eakins' side got off to a good start, there would really be no need to jump into anything to quickly. However, with a 2-6-1 record over their first nine games of the season, Edmonton could find themselves in a pretty deep hole by the twenty game mark if they are not careful.

Something could definitely be up.