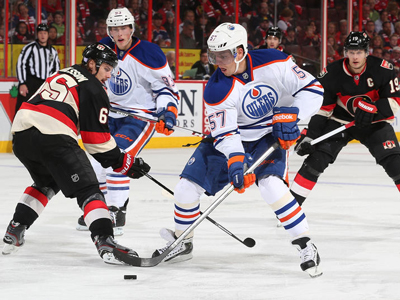 Edmonton - October 24, 2013 - When Edmonton Oilers GM Craig MacTavish decided to finally pull the trigger on the David Perron for Magnus Paajarvi swap, everyone knew Edmonton would be getting the better player in the here and now.

If the first ten games of his Oilers career are any indication of what fans can expect from the twenty-five year old winger, it's hard to not be impressed.

Perron is arguably as good an all around player head coach Dallas Eakins currently has at his disposal and is without question the lone Oilers skilled forward who has shown a willingness to try and actually get under the skin of the opposition on a nightly basis.

In all honesty, he is the exact sort of player this lineup has been void of for sometime and one they could most certainly use more of.

The former first round pick plays with an edge every time he hits the ice and apparently has never seen a scrum he hasn't wanted to jump into and be part of. Perron's been used up and down the Oilers lineup through the opening three weeks of the season and in every situation imaginable. He currently sits fourth among forwards in ice-time at 20:36, trailing only Ryan Nugent-Hopkins, Jordan Eberle and Taylor Hall.

With seven points in ten games, Perron has been able to contribute on the scoresheet but has yet to find the mark from a goal scoring standpoint. He has just one goal to show for his team leading shot total of 32 and currently sits with an ugly 3.1% shooting percentage.

While Perron has never been a big goal scorer during the first six years of his career, he does have two 20 goal campaigns under his belt and manged to score 84 times in 340 games with St. Louis. If you pro-rate that over a full season, that would make the Oilers #57 a twenty goal guy. At the moment, he's on pace to score just nine.

However, as I eluded to earlier, shooting the puck hasn't been a problem for the native of Sherbrooke, Quebec. Over a full 82 game schedule, Perron is on pace to fire 262 pucks on net, which would absolutely obliterate his previous career high of 166 in 2009-10. His shooting percentage has fluctuated all over the map during his time with the Blues, with a high of 19.1% and a low of 9.3%.

Heading into 2013-14, his career mark was 13.5%, making him a 35 goal man on 262 shot attempts. Now that hardly means a 30 goal campaign is a lock for the talented winger but should he keep firing pucks on goal at the same clip he has to start the year, even a rather disappointing total of 10% would translate into him scoring 26 times.

Expecting David Perron to finish somewhere in the neighbourhood of 20-25 goals seems to be more than fair and quite realistic. When you consider the quality of linemate he is playing with, the sheer volume of shots he is taking and the amount of ice-time he is logging, it appears to be more a matter of when Perron will breakout, rather than if he will.

From a team standpoint, the quicker he regains his scoring touch, the better off they will be. With Nail Yakupov still struggling to find his game and Taylor Hall likely to be missing from the lineup for at least the next four weeks, the Edmonton Oilers are going to have to rely heavily on the man who was arguably their biggest off-season acquisition.