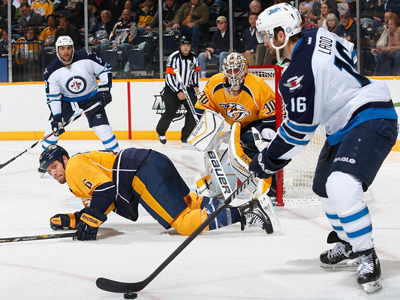 Edmonton - October 25, 2013 - Full disclosure (as per usual) - last nights Jets game against Nashville was much better to watch than I anticipated.

The reason for that was the Jets pushed the pace all night.

I've started to watch hockey differently and trying my best to take the emotion out of the game. (hard, and not always fun btw)

When I turned the game off after Dustin Byfuglien's unfortunate play I stopped to think about what I saw, and my impression was the Jets deserved much better.

This morning, the numbers prove it.

According the extraskater.com the Jets won the Corsi 5 on 5 close battle by a whopping 52.6 vs. 47.4 for Nashville. (If your not sure what that numbers mean go to the site and poke around, its very user friendly) The great thing about advanced stats is they can be used to validate or disprove your impression, or what you think.

For example, Evander Kane was -2, the worst number posted on the night. If you dig deeper though, you will find that Kane had a Corsi number of 56%, and 1.5% better than his team. The shots taken for and against while he was on the ice was 9 - 8 so he was not outplayed. It wasn't his best game last night, but far from his worst.

There was two players that looked great last very much were. I picked Blake Wheeler as a key going into last nights game and he was a beast.. He graded out at 65.4, a huge 14.6% better than his team. The chances graded out as 17 - 9 while he was working last night. Blake Wheeler, like Kane, has the size and speed to dominate any game they decide they want to.

The best Jet last night was James Wright. The waiver pickup posted an insane 70% last night playing center on what should be described as the third line. His chances ended up being 14 - 6 and they were unlucky to post any numbers.

Every defenseman had a plus 50% number last night with Tobias Enstrom and Zach Bogosian leading the charge. When Enstrom is on the ice, the puck is going the right way. The diminutive D man knows how to play the position, how to use his body and stick, and gets the puck moving in the right direction in short order. Bogosian continues to develop into the solid two-way player every organization craves.

Byfuglien looked ugly on the last play, and probably shouldn't be cheating for offence in last 45 seconds of OT, but his grade was passing on the night. He was an event machine last night though, with lots happening at both ends of the rink with him and Grant Clitsome. Byfuglien will do that once in a while, and then the coach has to struggle to rein him in. I don't often agree with the coach, but I do feel empathy for Claude Noel when it comes to Buff. He still hasn't quite learned Whoa vs. Go

The Jets have the night off and head into Dallas for a very tough game Saturday against the Stars. The Stars laid a beating on the Calgary Flames and are much tougher at home so far this season. It will be another tough test for the Jets. Time for leading scorers Andrew Ladd and Bryan Little to dominate. Game is on HNIC, enjoy!