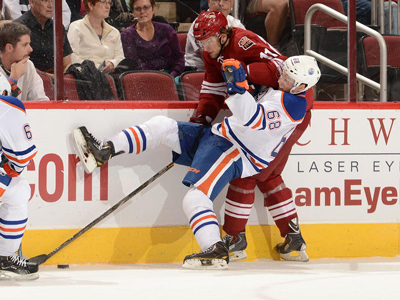 Edmonton - October 27, 2013 - Not sure how many different ways the Edmonton Oilers intend on losing games this season but they have to be running out of ways and we have yet to reach the end of the first month of their schedule.

Despite another four goal performance from Dallas Eakins squad upfront, the Oilers still managed to allow five pucks into their own net, dropping a 5-4 decision to the Phoenix Coyotes on Saturday afternoon.

A pair of late third period power play goals from defencemen Keith Yandle and Oliver Ekman-Larsson proved to be the difference, as the Coyotes managed to ruin what had the makings of a special night for rookie Tyler Pitlick.

The former second round pick gave the Oilers an early lead, slipping a bad angled shot under Mike Smith for the first goal of his NHL career, but would be forced to leave the game in the second period, after being hammered along the boards by defenceman David Schlemko.

Phoenix would erase Pitlick's first period icebreaker with a trio of quick strikes in period two, turning a one goal deficit into a 3-1 lead. Goals from Martin Hanzal, Michael Stone and Schlemko would force Eakins to pull starter Jason LaBarbera to help settle his troops, having already been forced to burn his timeout on an icing call. The veteran tender was not happy with being yanked, slamming his stick over the boards upon his arrival to the bench but he would find himself back in goal just thirty-nine seconds later.

After allowing three goals against in five shots in exactly five minutes, LaBarbera's emotional outburst appeared to be something of rallying point for his teammates. Less than two minutes after their backup netminder returned, Will Acton would cut the lead in half, poking a loose puck between Smith's pad for his second of the season and giving the Oilers bench some life.

David Perron would get them back on level terms before the period was out, tapping home his second of the year into a yawning cage at the 19:03 mark, thanks to an absolutely ridiculous passing sequence from the trio of Jordan Eberle, Justin Schultz and Ryan Nugent-Hopkins. It was a thing of beauty and gave Edmonton all the momentum heading into the intermission.

They would use that momentum to their advantage and grab their second lead of afternoon, as Nugent-Hopkins point shot deflected in off the leg of Ryan Jones to make 4-3. With just over twelve minutes to go, it looked as though the Oilers might just pull this one out and make three wins in four games. Unfortunately for them, they would have another costly five minute stretch, taking three consecutive minor penalties, that ultimately cost them the game.

Keith Yandle would tie things up all of fifty seconds into Andrew Ference's hooking minor, as his point shot found its way through a maze of players and past his former Coyotes teammate, for his first of the season. They would go back in fornt at the 12:23 mark, as Ekman-Larsson's point shot found its way through LaBarbera and into the back of the Oilers net, with Mark Arcobello in the box courtesy of an ill-timed high-sticking penalty.

From that point on, Edmonton generated much of nothing over the final seven and a half minutes of play, though two of those minutes were spent killing a bogus goaltender interference call on defenceman Ladislav Smid. While some will point to the officials for costing the Oilers the game, at some point, you have to be able to closeout a game.

Allowing yet another lead to slip away and turn into nothing but another disappointing loss, is simply unacceptable. At some point, this club needs one of their goalies to step up and shut the door in a tight game and simply make a save when they need one. Twelve games into the season and it has yet to occur.

Not surprisingly, Edmonton find themselves in the basement of the Western Conference standings with a 3-8-1 record and in danger of making it next to impossible for them to have any real chance of earning a possible playoff berth come April 12th.