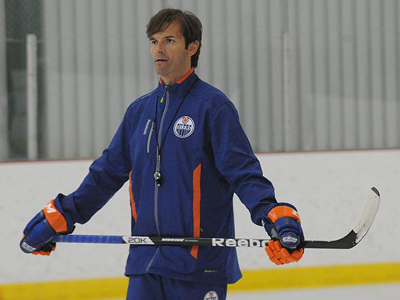 Edmonton - November 4, 2013 - The moment Dallas Eakins was brought on board to be the 12th head coach in the history of the Edmonton Oilers, we all knew he wouldn't be everyone's cup of tea.

He strongly believes in his methods and abilities as a coach, like any good coach, is very direct and to the point in his responses to questions and can occasionally come across as being somewhat arrogant in the minds of some.

While I was one who felt Ralph Krueger did a fairly decent job with the circumstances being what they were during his 48 game run as the Oilers head coach, I had absolutely zero issue with Craig MacTavish going out and getting his guy to coach this team.

Eakins seemed to be a natural fit at the time and despite this team's dreadful start to the 2013-14 campaign, he remains exactly that.

This notion that Edmonton's pathetic 3-10-2 mark is on the coach is frankly laughable.

Just like his players, there is no question Eakins would have loved the opportunity to pullout a few "mulligans" to help undo some of the decisions he has made over the first 15 games of his NHL coaching career but that is sort of par for the course for nearly every rookie coach.

He has certainly made his share of blunders from a personnel side of the ledger, most notably using Ryan Smyth on the top line throughout the preseason and to start the season, as well as not giving Nail Yakupov a single look during the exhibition schedule in a top six role. However, for the most part, the former Toronto Marlies coach has given his best players more than enough opportunity to carry this team and they have come up well short of achieving that goal.

Some will question his use of the fourth line, which is a fair point, but with a forward group filled with undersized guys who don't necessarily like to compete on a nightly basis and pretty much play the same style of game, his hands were kind of tied. That said, he made it abundantly clear from the moment he arrived in Edmonton, that this team needed to become far tougher to play against. With that being the case, his decision to go with the fourth line that he did should have surprised no one.

In fairness to Eakins, he has yet to have had the use of his full assortment of players on the power play and it has looked disjointed for much of the season. While his use of Jordan Eberle on the second unit and continual pairing of Ryan Nugent-Hopkins with Ales Hemsky were both head scratchers, this group has reverted back to refusing to shoot the puck on the man advantage.

Unfortunately, the coaches can't force these guys to shoot and the sheer volume of injuries has made it next to impossible for him take ice-time away from those who are unwilling to buy in. This is a team that has been using Ryan Jones on their PP of late...the same Ryan Jones they cut during training camp and sent down to OKC. Once they get the likes of Taylor Hall, Jesse Joensuu and Smyth back in the lineup, they should once again become a dominant force on the man advantage.

As far as the penalty kill goes, Eakins said during training camp he was planning on incorporating his top players into the Oilers kill and to this point, has done so with less than stellar results. While the PK has clearly taking a step back from the previous two years, let's call a spade a spade. Over the first two weeks of the season, they were definitely going through some growing pains but the fact their goaltending was absolutely atrocious made the penalty killing look far worse than it really was.

Not surprisingly, as the netminding started to come around a little, they stopped allowing power play goals at an alarming rate. The two kind of go hand and hand. With the plan being to use more skilled guys on the penalty kill, growing pains were always going to be part of the equation. That said, no one was expecting Edmonton's goaltending to be as bad as it has been.

While it may suck to have to watch it, if the long term plan is to truly use Eberle, Gagner, Hall, RNH and Perron as regular contributors on the PK, they need time to grown into those roles. I have been one who has called for the coaching staff to start using the kids on the penalty kill for two years so I have zero issue with Eakins doing what he's doing. Obviously, he feels now is the right time to allow them to find their way.

This team is coming off as lifeless a performance as you will likely ever see from an NHL team in their own building. The fact they folded like a cheap suit after allowing two goals in twenty-seven second span to the Detroit Red Wings on Saturday night, was simply unacceptable. Edmonton are currently missing a ton of players due to injury and would have likely been hard pressed to even stay with the Wings but the lack of effort they gave was frankly embarrassing.

That performance did not look good on anyone involved with this organization. Be you in upper management, a coach or a player. Though at what point does the head coach stop becoming the sacrificial lamb? Everyone knew Tom Renney wouldn't be around long term, as he was asked to do much of the heavy lifting on a team that was going nowhere for some time. Enter Ralph Krueger. In my mind, the plan all along was to give Krueger until the end of the 2013-14 season, at which point management would go in a different direction.

That all changed the moment MacTavish met with Mr. Eakins and ultimately offered him the Oilers head coaching gig. It was a tough break for Krueger but it was a move that would once and for all put an end to the coaching carousel in the Alberta capital. As pitiful as their 3-10-2 start has been, Dallas Eakins is not on the hot seat and nor should he be.

At some point, the players have to be held accountable for their play and if they are not going to be part of the solution, they need to be replaced with players who will be. The GM started that purge during this past summer and apparently it goes a little deeper than most within the organization first thought. Make no mistake, this roster is flawed and still short some major pieces before they will be able to turn things around and once again become a competitive hockey team.

Craig MacTavish knew fixing this lineup would not be an easy task and while he was hoping to gain some "immediate traction" and improve his club fairly quickly, the standings tell us that hasn't been the case. Clearly, the Edmonton Oilers general manager still has a fair bit of work in front of him but bringing in a new head coach isn't one of them. Dallas Eakins is his guy, whereas the vast majority of these players are not.

Whether these changes come during the current season or in the off-season, they are coming. In his introductory press conference as the club's new GM, MacTavish hinted at not being an overly "patient guy" and wanting to turn this thing around quickly. Well Craig, you now have company...as the vast majority of Oilers fans have reached their boiling point and want to see results in the standings.

The time to simply collect talent and hope for the future is no more. After nearly eight years of nothing but losing, the time to start winning hockey games has now arrived.