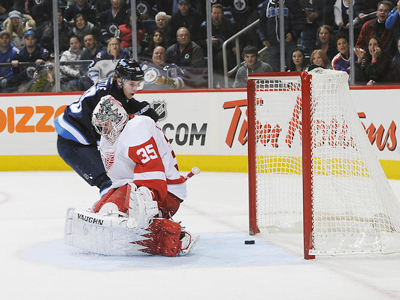 Edmonton - November 6, 2013 - Off the top, yes it was a victory against a tired team who had just romped through western Canada.

Secondly, don't ever apologise for a victory, especially against the Detroit Red Wings.

Thirdly, Winnipeg did the impossible, they dominated that game on the score board, shot clock, and the fancy stats.

It was a huge win for a team that was reeling and spinning down the drain to the bottom of the conference standings.

Coach Claude Noel said he needed an A plus effort from every player last night, and he got it. Every player won the Corsi battle with the exception of Michael Frolik who happened to have another strong performance last night on a line with Mark Scheifele. Speaking of young Scheifele, he was spectacular last night! He has two assists, and one was of the gold star variety on a perfectly executed 3 on 2. He played 18 plus minutes, and was above .500 in the draws (albeit, he only took 9 face-offs)

Al Montoya probably thought he was being thrown to the wolves last night, earning only his third start of the season. Montoya was solid turning aside 26 of the 28 shots he faced and surprisingly was the least busy of the two goalies. Jimmy Howard had a great game, making 43 saves and a couple of the highlight variety. Montoya deserved another start Wednesday, we'll see if he gets it...

It's hard to argue that any game in November is a "must win", but the Jets have a brutal schedule in the next four games and cannot continue to lose ground. The win kept them within breathing room of the middle of the pack and if they can get on a run, can find themselves back in the playoff picture in very little time. Wins like last night can turn around a season and spark a nice run. A four or five game win streak, especially in your division can be huge when it's all said and done.

Tonight will be tough but now is the best time to face Chicago again. The team should have some bounce in their step and be just enough pissed off from Saturdays embarrassing performance against the Hawks. That being said, the Jets do not seem to play when they have the eyes of the nation on them. I predict you will see a much better effort and more sandpaper from Winnipeg this time around.