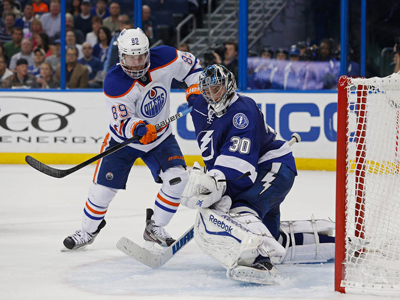 Edmonton - November 8, 2013 - On a night in which the Edmonton Oilers had Taylor Hall make his long-awaited return to the lineup, it was an outstanding performance from netminder Ben Bishop and a couple of timely finishes from Steven Stamkos that proved to be too much for Dallas Eakins' crew to overcome

Bishop stopped thirty-eight shots, many of which were of the highlight reel variety, in leading the Tampa Bay Lightning to a 4-2 win over the Western Conference cellar dwellers.

Hall was excellent in his return, leading the team with eight shots on goal and all Oilers forwards with 22:03 in ice-time.

He did manage to score his fourth of the season late in the game, after being robbed on numerous occasions by the Bolts starting netminder.

Defenceman Taylor Fedun continued to add to his storybook debut on Thursday evening, scoring for the second straight game, as the youngster looks as though he is in no rush to return to the American Hockey League.

Stamkos wasted little time in making an impact in this one, as a careless turnover from Nail Yakupov at the Oilers blueline freed up the sixty goal man for a wide open look from thirty feet out, as he easily beat Devan Dubnyk high to the blockerside to make it 1-0. With almost any other player in the league it would have been a nothing play but with #91 lingering about, Edmonton would be punished for #64's blunder.

The Oilers would get that one back less than three minutes later, as Jordan Eberle found a streaking Fedun and the kid made absolutely no mistake, burying his second of of the season. Since being recalled from Oklahoma City, the twenty-five year old has made a habit of jumping into the play whenever the situation calls for it and he has been rewarded for his efforts.

Unfortunately, another late period hiccup would prove to be rather costly for the visitors. The duo of Andrew Ference and Jordan Eberle combined to cough up the puck deep in the Oilers zone to you guessed it, Mr. Stamkos. The two-time fifty goal scorer proceeded to lug the puck around the goal before sliding home his thirteenth of the season on a wrap-around....with all of fifty-three seconds left in the period.

It was yet another brutal giveaway in their own zone but a puck Dubnyk simply can not allow to go in. Was it a horrible play from Eberle and Ference down low? You bet but at some point, your goaltender has to make a stop and it's not as if we are talking about making some sort of highlight reel save, as Stamkos did nothing overly special with his finish.

To Edmonton's credit, they came out even stronger in period two but were unable to solve the guy down at the other end of the rink. Bishop turned aside a number of quality chances, including stoning Hall on a clear-cut breakaway late in the frame. While their netminder was holding his team in it, the Bolts created next to nothing for much of the period. Until yet another late goal would do the Oilers in.

Richard Panik made Ladislav Smid look pylon-like with a slick little move to avoid the Oilers defender, before finding a wide open Tyler Johnson for an easy tap in with 1:27 left on the clock. Just like that, a one goal deficit turned into two and outside of Johnson hitting the post earlier in the frame, the Lightning had pretty much gone three-for-three on their scoring chances over the opening forty minutes.

Once again the Oilers would rebound, pushing the pace even further over the final twenty minutes but Bishop would take his game to the next level. He would stone Hall yet again with a brilliant pad stop midway through the period but the former first overall pick would finally beat him seconds later, snapping home his first power play marker on the year, cutting the lead to 3-2.

They nearly managed to pull off the comeback but the former third round pick of the St. Louis Blues saved his best work for when his team needed it most. With just over three minutes to go, Bishop would absolutely rob Boyd Gordon on a two-on-one break, going post-to-post to make a fabulous arm save, after the Oilers centre was sent in all alone on a wonderful feed from Yakupov. That stop pretty much sealed it but Valtteri Filppula made sure there would be no last second comeback, potting his sixth of the season into an empty net at the 18:55 mark.

It was yet another disappointing finish for an Oilers side that arguably played their best all around game of the season. They pushed the play for much of the night, badly out shooting the Bolts 40-26, and were by far and away the better team. They ran into a hot goalie who quite literally stole two points away from them.

Good goalies will do that from time to time, it's part of the game. Regrettably, the Oilers are still waiting for the guy to step up and do the same thing for them. That said, I have a feeling they would simply settle for the occasional big stop...which is apparently asking for a little too much.