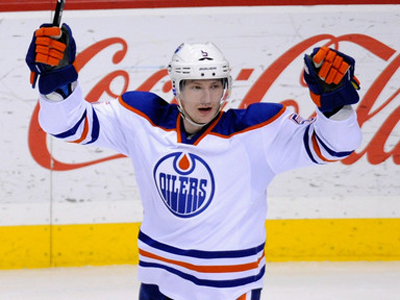 Edmonton - November 9, 2013 - Hate to say I told you so but you could see this one coming from a mile away.

Just under three weeks ago, I wrote a piece on Edmonton Oilers blueliner Ladislav Smid apparently not being a guy that head coach Dallas Eakins had much confidence in using as a top four defenceman.

Those suspicions came to fruition late Friday afternoon, as general manager Craig MacTavish announced the club had decided to move the veteran rearguard to the Calgary Flames, for absolutely nothing that will help this organization improve in the near future.

After finally recognizing and trying to address this lineups need for players entering the prime years of their career, aka Anton Belov, Boyd Gordon and David Perron, the Oilers decided to take a step backwards in moving the Czech defender.

In acquiring prospect Roman Horak and former Edmonton Oil Kings standout Laurent Brossoit, MacT has simply made his hockey club worse. While the move did free up enough cap space to allow the Oilers to bring in free agent netminder Ilya Bryzgalov, that was something that could have just as easily been accomplished by keeping the Oilers #5 around.

Some point to the emergence of Belov as to why Smid was made available but in all honestly, one should have had nothing to do with the other. Even if the coaching staff felt the twenty-seven year old Russian was a better fit inside the Oilers top two pairings, which as they are currently constructed is a bit of a stretch, there is no way veteran Nick Schultz could be viewed as an upgrade over the former first round pick of the Anaheim Ducks.

For an organization that has already paid NHL money to the likes of Ben Eager, Denis Grebeshkov and Ryan Jones to play for the Oklahoma City Barons at various times this season, while paying Eric Belanger to simply just stay away, eating a bit of extra change to move Schultz along to another NHL city should have been an absolute no-brainer...and yet they decide to send the guy who bleeds Orange and Blue on his way.

The same guy who took a hometown discount to remain a member of the Oilers last April, signing a four year/$14 million extension. Not exactly chump change for a stay at home defenceman but he likely left somewhere in the neighbourhood of $5-$10 million on the table over the length of the deal by forgoing free agency.

If he could do it all over again, my guess is Smid would have listened to his agent and hit the open market last summer and pick whatever destination worked best for him and his new bride. Instead he decided to the honourable thing for the betterment of the organization and they re-payed him for his loyalty by shipping him out of town just seven months later.

At the end of the day, hockey is a business and the organization has to do what they feel is best for them but moving Smid for a couple of "what-ifs" doesn't qualify as such a move. As I mentioned in my previous piece, the moment Eakins named a third of his roster as "alternate captains" and Smid was not among them, the writing was pretty much on the wall,

Now had the Oilers GM made a move that actually improved the on ice product, it would have been next to impossible to question.With Smid no longer in the mix, Edmonton's bottom pairing now features the names of Taylor Fedun, Philip Larsen and the aforementioned Schultz, while the top four are pretty much set in stone with Belov, Andrew Ference, Jeff Petry and Justin Schultz. Again, please explain to me how that group got better with Smid leaving town? That's right, it did not..

Hopefully someone steps up and takes on those extra minutes but nothing we have seen to date points to any of those guys being able to take on an increased workload over the final sixty-five games of the season. Just from an asset management standpoint, would the smarter move not had been to move Smid around the NHL Trade Deadline and actually get something of value for him?

At twenty-seven years of age and signed for the next three seasons at a reasonable ticket, my guess would be the potential return would have been far greater than what Jay Feaster coughed up on Friday afternoon. If a pending unrestricted Douglas Murray could net the San Jose Sharks two second round picks during last year's deadline, I am pretty confident MacT would have been able to acquire a nice "package" for a likely member of the Czech Olympic team.

Sorry but no one can convince me that this was anything more than a move made out of desperation and one that will ultimately not benefit the team in any way shape or form. Unfortunately it cost them one of the few players that truly loved playing and living in the city of Edmonton and was a great character guy to boot.

Those guys don't tend to grow on trees and if you are going to move one, you had better get something for them. To Smid's credit he remained classy to the very end and had the following words for the fans and organization upon learning of the trade to Calgary (courtesy of EdmontonOilers.com):


"I appreciate all of the support of the fans, they were incredible and some of the best fans in the NHL. It's for sure a top class organization in the NHL. They supported me throughout my career, they brought me up from when I was 20-years old and they gave me an opportunity in the NHL. I really appreciate that and will never forget it."


While Ladislav Smid may not have been a Dallas Eakins type player, whatever that might entail, I have a feeling the Edmonton Oilers are going to spend the next couple of years trying to re-acquire the exact type of player they decided to simply hand over to their provincial rival for next to nothing.

All this because someone thought bringing Ilya Bryzgalov on board would be a good idea. Didn't another organization just think that would be the way to go...and how is that working out for them? While I am not one who tends to dissect or scrutinize every single move the Oilers management team makes, this one ranks right up there as one of the dumbest they have made in recent memory.