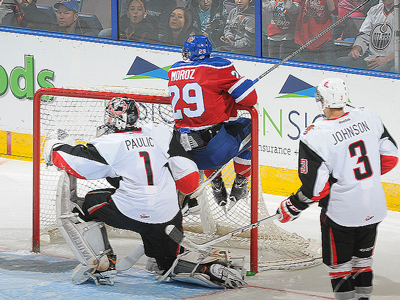 Edmonton - November 15, 2013 - While the Edmonton Oilers may be incapable of scoring goals and winning games on Rexall Place ice, the Edmonton Oil Kings wasted little time in doing exactly that on Thursday night, blasting the Moose Jaw Warriors by a score of 6-2 in their first home game since October 20th.

Oil Kings captain Griffin Reinhart led the way with his first multi-point night of the year, scoring his second of the year and chipping in a pair of assists.

The trio of Cody Corbett, Curtis Lazar and Mitch Moroz continued their dominance of the Western Hockey League, each registering two point efforts.

Warriors captain Sam Fioretti opened the scoring at the 8:21 mark, pouncing on a loose puck and firing his seventh of the season past Tristan Jarry but Derek Laxdal's crew would get that one back before the period was out, courtesy of their own guy wearing the "C".

Reinhart's point blast found its way through a partially screened Justin Paulic, with just under four minutes to go in the opening frame, to make it 1-1. From that point on, it would be all Oil Kings as they would explode for a trio of second period goals.

Edmonton would grab their first lead of the night thanks to an early power play marker from Brett Pollock, as the Sherwood Park native fired a rebound into a yawning cage for his seventh on the year. Corbett picked up assists on both Oil Kings first two goals, giving the undrafted blueliner twenty-one points in just fifteen games.

Curtis Lazar would extend the lead at the nine minute mark, banking a shot off Moose Jaw defenceman Travis Brown for his fourteenth and giving the Ottawa Senators first rounder twenty-four points in eighteen games. With thirty-one minutes to go, Edmonton held a 3-1 lead on the scoreboard and a 27-11 advantage on the shot clock.

Brayden Point would cut the lead back down to one with a power play marker of his own, thanks to Oil Kings forward Mitchell Walter picking up a high-sticking minor prior to dropping the mitts with Moose Jaw's Kirk Johnson. That goal seemed to spark the Warriors as they dominated play for much of the last half of the period.

They would be handed a glorious opportunity to even things up with roughly seven minutes to go, as Edmonton took back-to-back penalties to put themselves two-man short. Unfortunately for the visitors, the Oil Kings penalty kill would step up to the plate, thanks in large part to last week's winner of the CHL Goaltender of the Week honours.

After being out shot 7-0 following Lazar's 3-1 goal, Edmonton would pay their netminder back for his effort before the period was out, scoring their second power play goal of the night. Defenceman Dysin Mayo's point shot would make its way past, you guessed it, a screened Paulic for his first on the campaign.

Jarry would stone Tanner Eberle in the opening minute, making a wonderful pad stop off off the Warrior winger, to keep it a 4-2 game. Mitch Moroz would take over from there. The Oilers draftee would finally put an end to his eight game goal scoring drought, sliding home his thirteenth of the year at the 5:55 mark. He would complete his Gordie Howe Hat-Trick roughly ten minutes later, dropping the gloves with Jesse Forsberg in what was a rather spirited affair.

Mads Eller would closeout the scoring, potting just his second of the year and first since October 4th, to make it a 6-2 final. The talented youngster has had his fair share of ups and downs during his rookie campaign but has managed to pick up four points over his last four games.

The win pulled Edmonton into third place in the WHL's Eastern Conference, as they continue to make their way back up the Western Hockey League standings. The Oil Kings currently trail the Central Division leading Medicine Hat Tigers by six points but will play twelve of their next eighteen games on home ice, starting with Saturday night's tilt with the Swift Current Broncos.